One of the most frustrating, yet seemingly insignificant, moments in life are when you lose your keys. No matter how many keychains you put it on, it always seem to find a way to jump out of your pockets and into the void, through no fault of your own, of course!
"Ugh, whatever, I'll just get new ones made" you tell yourself, knowing full well that, yup, that's never going to happen. I mean, you could try finding it, but what are the success rates of that, given your previous history? Yeah, I thought so.
But worry not; we live in the future now (sorta)! Thanks to handy-dandy Bluetooth trackers, even the common hapless person can find their keys without worry. And the best part? You don't need fancy equipment, spy training, or bulky equipment for it: all it takes is a tiny device that acts both as a tracker and a keychain. While "premium" models do exist, some of the best Bluetooth trackers are actually under $30, a bargain considering it buys you peace of mind!
We went out and looked at all the best Bluetooth trackers under $30 so you don't have to. Check them out:
HButler Orbit
The Orbit might be small, but you'll certainly be able to hear its presence: the Orbit comes with a companion app that activates a 90-decibel alarm, enough to alert you and everyone around you. The Orbit records the last known location of your keys on a map, giving you a handy guide to finding them if they're still there. This location is updated on a regular basis depending on your settings.
Aside from this the Orbit can be used as a selfie stick remote, and as a way to track down your phone. Unlike other trackers, the Orbit has a replaceable battery and a set of tools that come shipped with the box. The HButler Orbit lasts 6 months on a single charge.
Price: $17.90
Pixie
Unlike other Bluetooth trackers that use phone proximity to help you locate it; rather, the Pixie uses a complex local mesh network that enables it to use GPS-like triangulation, which helps it locate your keys with sheer precision. The Pixie can locate its tracker within a 150-foot radius outdoors and 50 feet indoors.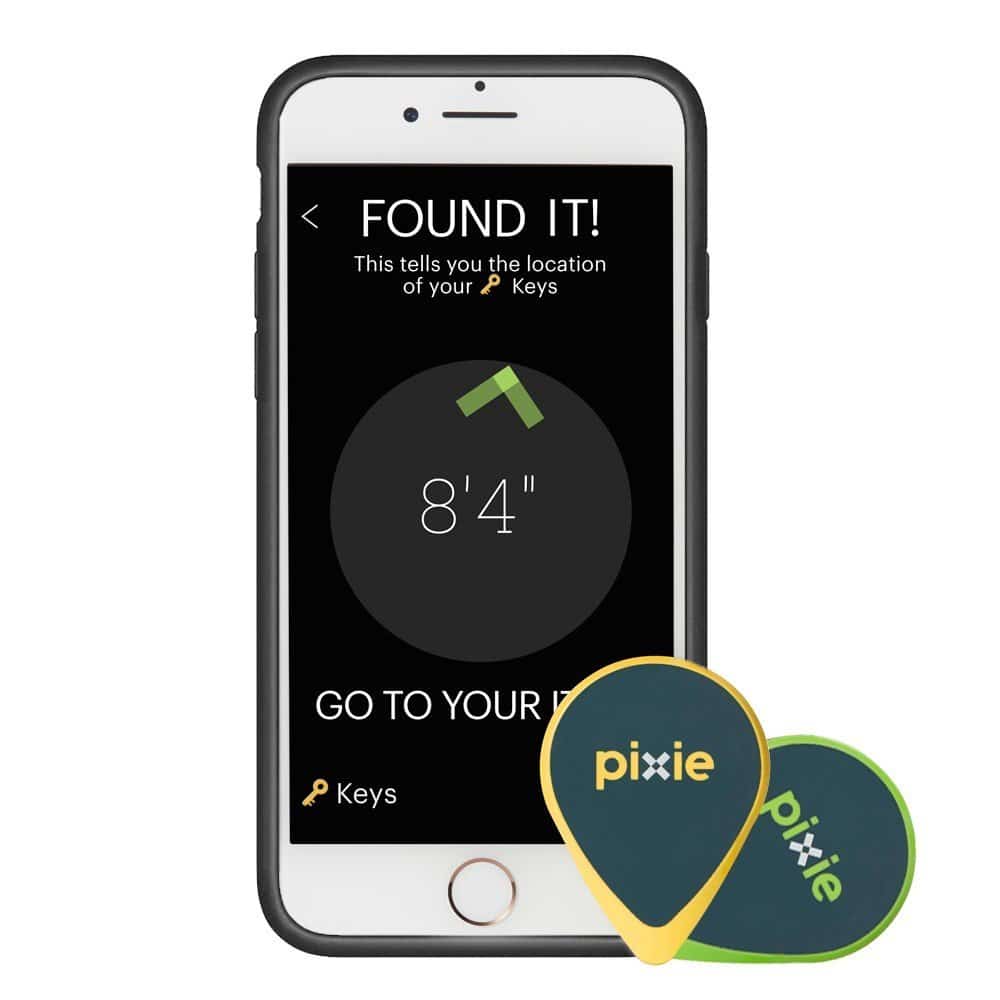 The Pixie app is also a treat to use, with its augmented reality mode that lets you see the trackers overlaid atop a real-time view of whatever you're pointing your camera at. It also has dynamic audio cues that let you know when you're nearing a specific Pixie. A Pixie tracker lasts 12 months on a full charge, so you don't have to worry about it losing juice at critical moments.
One downside, however, is its size: because it is uses a different kind of technology as other trackers in the market, it's not as compact. Measuring it at 1.9 x 1.4 x 0.1 inches, the Pixie is not as diminutive as its name suggests.
Price: $19.99
Download the Pixie App here.
Tile Mate
One of the more well-known Bluetooth tracker brands out there, the Tile Mate easily slips into most key rings and is discreet enough to not make much of a bulge in your pocket. The tracker has an 88-decibel alarm that can be activated via the Tile Mate app. The app can also show you the last known location of your keys, much like other trackers. However, unlike other trackers, if your Tile Mate doesn't show up on the map, you can set an alarm that goes off whenever another Tile Mate user gets near it. Pretty neat!
It can also be used to locate your phone; pressing the center of the Tile Mate tracker activates your phone app and you can then track it using another Tile Mate app or through a desktop program. It's designed to last for a full year on a single charge. In case the Tile Mate breaks, no worries: the Tile's reTile program lets you buy a brand new tracker for 50% off.
Price: $28.95
TrackR Bravo
The TrackR Bravo has all the convenience of other Bluetooth trackers, like a companion app, a separation alert feature, and a 92-decibel alarm. However, what separates it from other brands is its ability to be paired with virtual assistants like Amazon Echo or Alexa. You can ask your virtual assistant to help you find your keys, and it will guide you to the right direction by detecting your proximity from the tracker itself. The tracker can also be used to find your phone.
In case you lose both your phone
and
the tracker, don't worry; more than one phone can ring up your tracker and your phone, thanks to the TrackR's multi-phone ring feature. It's also big enough to have pertinent information engraved on its surface, boosting your chances of recovery.
Price: $29.95
Pebblebee Finder
Out of all the trackers on this list, the Pebblebee Finder has the biggest tracking range: it boasts 200 feet of tracking capabilities and is made from durable stainless steel, perfect for those who have a penchant for losing their keys outdoors. It has a loud buzzer, but also a bright, pulsing LED to help you find it quicker.
Unlike other trackers, the Finder doesn't need an app to run in the background of your phone, thereby saving you some precious battery time. Its battery is guaranteed to run a full year before being depleted. One downside, though: the Finder requires iOs 9 and above to function, although Android 5.0 and above works too, so if you don't have an updated Apple device, tough luck.
Price: $29.99