Remote workers have been around for quite some time. However, because of the pandemic, more companies started to transition to a remote working setup.
As employees began to get used to working outside the office, many have struggled to stay productive. There are many distractions present at home and even in other places, hindering them from focusing on their work.
To battle this, ensure that your equipment and workspace accommodate your needs. One way to do this is by getting the right laptop that will improve your remote working experience.
Before you go out and buy a laptop, you should first think about the following factors.
One of the perks of working remotely is being able to stay at home or travel to other places while still being able to accomplish your tasks. However, this would be hard to do if you are constantly lugging around a PC or a bulky laptop, right?
When shopping for a laptop, make sure to consider its size. Is it portable enough to fit your bag? Is it light enough to be carried around for hours on end? Asking yourself these questions before paying for a laptop is an important step.
Of course, what matters most in a laptop is its specs. One of the most important factors you should consider is a computer's RAM (random access memory). This determines how well your laptop will perform while you are working on various tasks.
Remember that the higher your RAM is, the faster your device will be when accessing data and running applications. Most laptops available in the market today have a minimum of 4GB RAM. But if you often use high-power applications for your work (such as video editing software), you should look for or upgrade to 8GB or more.
Laptops with a large battery capacity are ideal for remote workers. When your device stays charged for long periods, you can take it anywhere and even work while commuting or on a long flight. Although you might be sacrificing lightness when you go for a laptop with a big battery, portability and extended use will totally make up for it.
When shopping for a laptop, do not just look at the standby time indicated on the box. As you use your device, different factors—such as screen brightness and applications run—can affect how long your device will stay charged.
Instead, see the laptop battery's Watt-hours (Wh) or milliamp-hours (mAh) rating. The higher the number of these, the longer your device will operate while unplugged.
Also known as the CPU (central processing unit), the processor is said to be the heart of your device. It also greatly affects your laptop's productivity. With a faster processor, your applications will load more quickly, your laptop won't lag, and you can easily multitask.
Once you start looking at different laptops, you will notice that most of them have dual- or quad-core CPUs. There may even be some with octa-core chips. This may be confusing for someone who might not be too familiar with laptop specs. Just remember that the more cores a CPU has, the faster it will be when running multiple processes.
Another important factor to consider when looking for a laptop is storage. There are two types of storage you should learn about:
Hard disk drives (HDD): This is a device that uses magnetic storage to easily store and retrieve data. It consists of at least one metal platter with a magnetic coating and a read-write head that accesses data.
Solid-state drives (SSD): SSD provides the basic functions that HDD does. However, instead of metal platters, it uses interconnected flash-memory chips to store data.
To help you decide between the two, you can read comparison articles between SSD and HDD. Just remember that going for a device with a spacious drive will allow you to store more files that you might need for your job.
Top 3 Laptops for Remote Working
Now that we've laid out the things you need to consider when choosing a laptop, let's look at our best bets, shall we? Here are five of the best laptops that suit your needs as a remote worker:
Specifications:
Display size: 13.3 inches
RAM: 8GB
Battery life: Built-in 49.9Wh lithium‑polymer battery
Processor: 8-core CPU; Core i3
Storage: 256GB SSD
The 2020 Apple MacBook Air boasts a classy design that is matched by its improved keyboard and excellent trackpad. This device is also known for its portability because of its slim and lightweight body.
Additionally, the 2020 Apple MacBook Air has a battery capacity that will last you a long time. This feature makes it ideal for a remote worker who often travels to other places.
In terms of its performance, you can be sure that its 8GB RAM will be enough to accommodate your basic work processes. It also comes with a 1.1GHz dual-core Core i3 processor, which you can easily upgrade to a 1.1GHz quad-core Core i5 for at least $100.
One of the downsides of the 2020 Apple MacBook Air, however, is its small-capacity storage. The device only comes with a 256GB SSD storage space, which can run out pretty quickly. Luckily, you have the option to double it up to 512GB (along with upgrading the processor) when you pay for the $1,299 step-up configuration.
Specifications:
Display size: 15.6 inches
RAM: 8GB
Battery life: 3580 mAh Lithium-Ion (Li-Ion) battery
Processor: 4-core CPU; Intel Core i5-9300H
Storage: 512GB SSD
This laptop is ideal for remote workers who would also like to do a little gaming in their free time. Most of Acer Aspire 7's features are really made for general use. But it just happens to be equipped with the Nvidia GTX 1050, a graphics chip good enough for gaming.
In some ways, you can say that the Acer Aspire 7 is better than gaming laptops because of its better battery life. Unlike gaming laptops, this model can last for a few hours unplugged. This feature also gives the Acer Aspire 7 plus points for portability.
Aside from its great performance and lasting battery life, the Acer Aspire 7 looks good enough to turn a few heads when you whip it out in a café. This slim, lightweight laptop has a metal cover and keyboard deck, which adds to its sophistication.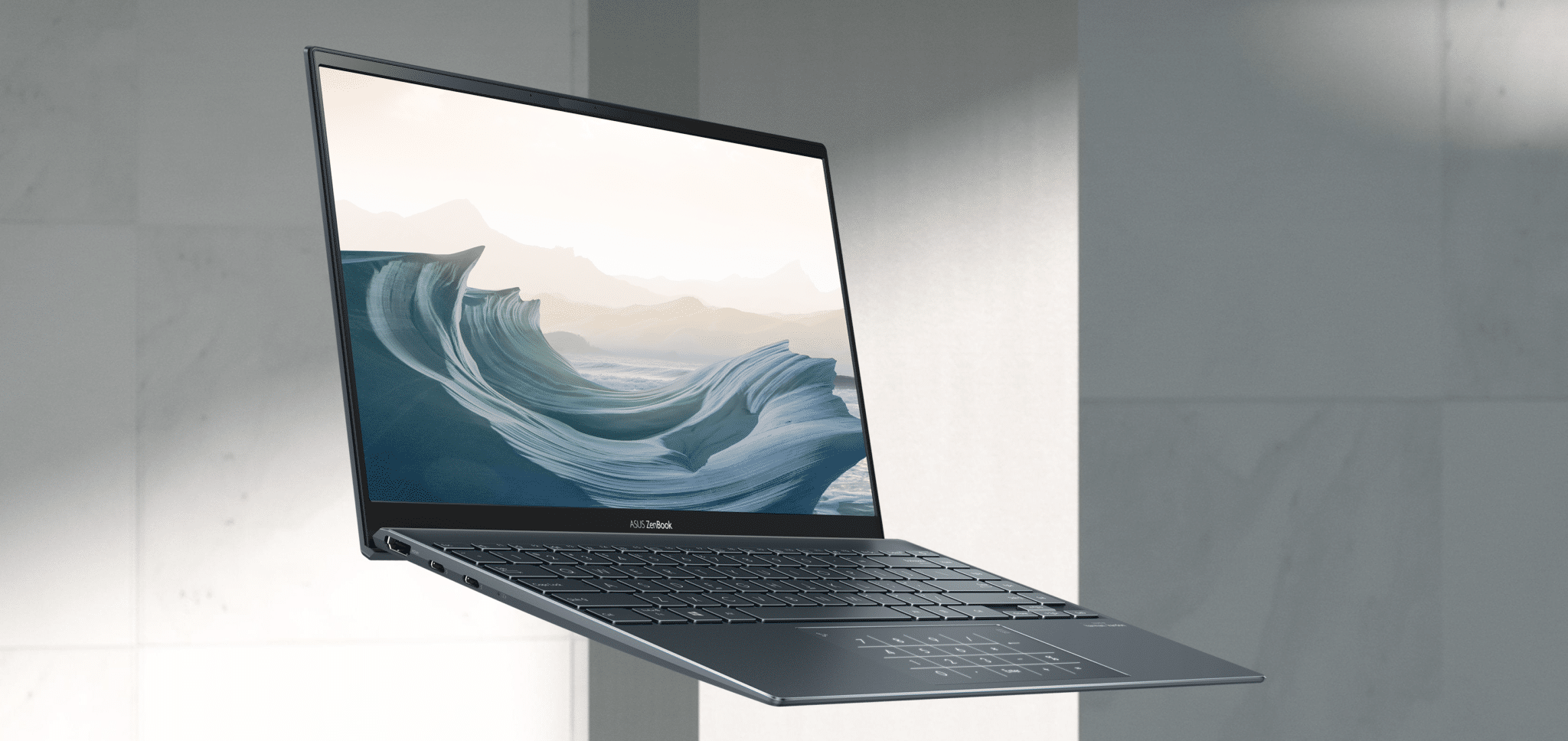 Specifications:
Display size: 14 inches
RAM: 8GB
Battery life: 63Wh battery
Processor: 4-core CPU; Intel® Core™ i7-1165G7
Storage: 512GB SSD
If you are looking for a reliable laptop that offers convenience in every way, then you should consider getting an Asus ZenBook 14. This is a lightweight device that you can easily take anywhere.
One of the best features of this laptop is that it can help you improve your productivity. With the exceptional ASUS ScreenPad2, you will be able to multitask much easier. It acts as a secondary screen, which also contains shortcuts to make your life more convenient.
The Asus ZenBook 14 also has a 1W screen option that, when activated, extends your battery life. According to Asus, this feature allows your screen to consume 63.6% less power than other laptop displays.
Because of this option, you will be able to manage your battery consumption even better, especially while outside. This makes the Asus ZenBook 14 a great laptop choice for remote workers.
Whether you are using high-power software for video editing or your sticker printing services or switching between applications as you do your research and write content, investing in a good laptop is never a bad idea. Just make sure to always remember the things that you need to consider when shopping for a laptop:
Size
RAM
Battery
Processor
Storage