Babies left crying too long can lead to brain damage, one childcare expert found. Child development psychologist Penelope Leach, in her book Your Baby and Child: From Birth to Age Five, argued that babies who cry do so because they are uncomfortable or stressed. Long periods of stress may induce high amounts of cortisol – the hormone that adjusts the body during periods of stress – which could lead to long-term mental damage. So, for parents who believe in letting babies cry until they learn to stop, you may be doing your child harm in the long run.
This is just one of the reasons why many parents and guardians opt for baby monitors or baby cams. If you live in a medium or large-sized house, you may not be able to hear your child cry until they start screaming their lungs out. There's also knowing if they're asleep when they should be, when they wake up, or even if their babysitters are treating them well while you're out.
With smart technology making its way onto various devices and improving the way things function, the same can be said for baby monitors. However, some without that technology are still pretty good and gets the job done.
Either way, there are cheap baby monitors under 100 dollars for parents on a budget that still provide the best value for their money. These are the top rated video and audio baby monitors for the reasonable price of $100 and below.
Babysense Video Baby Monitor
Priced originally at $127, you'll find the Babysense Video Baby Monitor priced down to $76 in Amazon. It's your basic baby camera, providing both audio and visual monitoring. The screen provides clear images throughout the day and features such as an HD colored screen with zoom, an interference-free connection, two-way intercom, and more.
Some of its unique selling points include the ability to play pre-programmed lullabies or create a scheduled alert for feeding, medication, or diaper changes. It has infrared night vision which can help you see your baby any time of the day. While it can't adjust the temperature in the baby's room, it can detect the temperature, letting you know if the baby's room is too hot or too cold.
One set of the Babysense baby monitor will get you a one parent and baby unit, power adapters, and a Lithium ion battery. However, buying an additional camera costs over a hundred dollars. And while you can tilt or pan the camera, its camera model doesn't really provide a wide range of movement, requiring you to either buy a second camera or place it in such a way that it can capture your child's entire room.
There's also the fact that this is one of the traditional monitors that uses radio frequencies instead of Wi-Fi. This means you're only limited up to 900 feet of open space (which means it's even less in places full of walls and barriers that disrupt the signal) before you get the out-of-range warning. If you're getting a baby monitor to watch over your children while you're out of the house and leaving your baby in the hands of a nanny, this isn't the ideal choice.

iBaby Monitor M6S
This audio-visual baby monitor is slightly above the price range, but the iBaby Video Monitory M6S reliable features make the additional three dollars an exception worth considering. Originally priced at 180 dollars, it's now priced at $103 on Amazon.
I like that the camera looks less like your traditional webcam and reminds you of a round little robot, blending well into a child-friendly atmosphere. Its design allows you to have a 360-view of your child's room and up to a 110 degree tilt. It's Wi-Fi-operated, and it takes less than a minute to connect the camera to your phone as well as additional unlimited users.
The 1080 video camera offers exceptional quality in both day and night vision and can even record videos on command. Behind the camera is a speaker allowing you to either let your baby hear your voice or play lullabies. You can keep track of environmental factors such as temperature, humidity, and air quality.
It's an all-in-one baby monitor, but some parents may be worried about their child's security when it comes to baby monitors. However, similar reviews report that the device's security is better than lower-quality models. However, both your phone and the camera need a good Wi-Fi signal for it to truly work. Some users also found that not restricting their background data caused the app to consume a lot of data.
Cloud Baby Monitor
If you're not keen on having separate devices for monitoring, have an iPhone or Apple Watch and an extra iPad or MacBook at home, the Cloud Baby Monitor may be an excellent choice for you. This isn't a camera you can buy at your local Power Mac Center, but an app you can buy on the App Store for $3.99.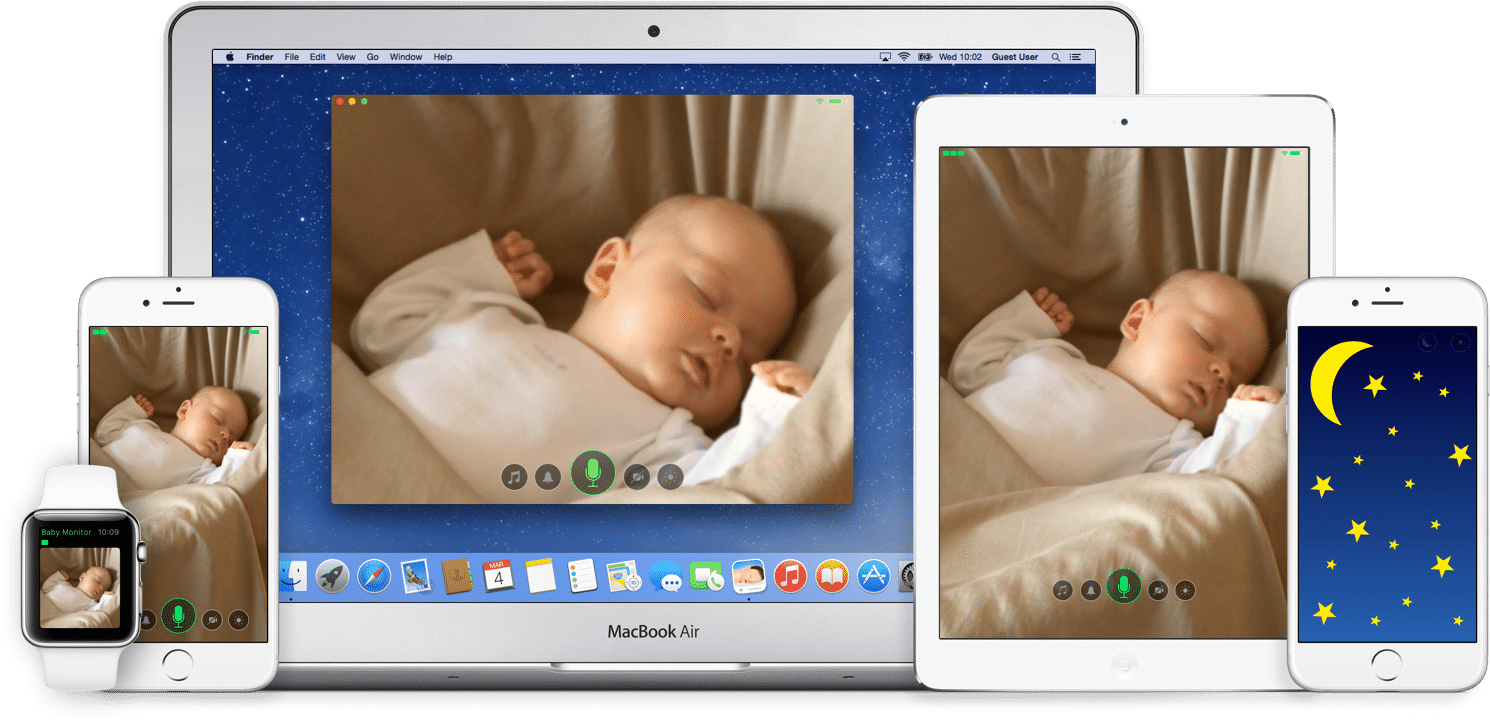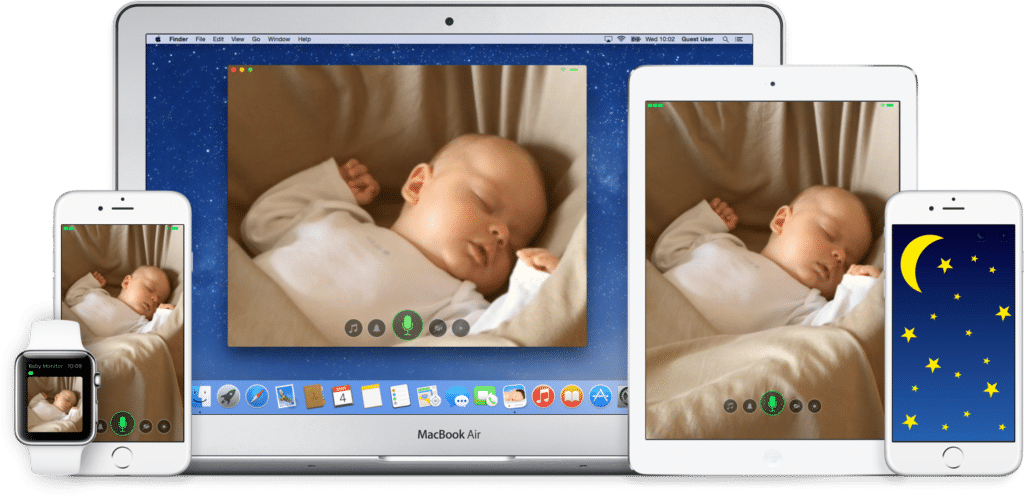 You'll need at least two Apple devices for this to work. Simply buy and download the app, leave the first unit like you would with a regular baby monitor in your baby's room. Once you open the app on your second unit, you'll find you have steady and secure connection to the first unit without the need for configuration.
The fact that it's an Apple product ensures users that the communication between the two units have industry standard encryption. Because it's connected via Wi-Fi, there's no distance limitation. And because of the quality of Apple products' microphones, you can get accurate noise and motion alerts. You can also play white noise and lullabies for your baby with a few taps. If you have more than one baby in two separate rooms, you can monitor up to two rooms with one device as long as you have a third device.
The downside, though, is that an iPad costs $499. Would you really want to have your iPad in your baby's room the entire day? I feel like you're better off buying a camera with features that allow you to download an app onto your phone instead of using an iPad as a backup. If you have two or three Apple devices compatible with the app (starting with the iPad 4, iPod touch, iPad 2, and newer models), this may be your best bet since the app costs less than $4. But if you have an Android phone or don't have enough devices, you're better off buying an actual baby monitor instead of an iPad or iPhone for the sole purpose of monitoring your child.
VTech DM221 Audio Baby Monitor
The only audio baby monitor on this list, the VTech DM221-2 is for parents on a budget who can do without the video feed and are more concerned with hearing their baby while they're out of the room. Whether you choose to have one or two parent units, this model is way below USD 100 at $34.99 and $38.99, respectively.
With their DECT 6.0 technology, the DM221-2 provides crystal clear transmission. If you want to put the sound of your baby on mute, there's a visual monitor that indicates the level of sound. The distance between units can extend up to a thousand feet, but if your home has a lot of walls, expect that limit to be less. You can even talk to your baby with its two-way intercom.
The one concern I have about this model is the lack of video feed. While plenty of children have survived to adulthood without their parents needing a baby cam, a lot can happen that won't make sound your baby monitor can pick up. For parents worried about their children and need to visually keep tabs on them and have a bigger budget, they're better off looking for audio and visual monitors.
Parents want the best for their children, including appliances that keep them secure. However, you don't have to spend way above your means to provide them with the best. There are affordable baby monitors in the market that not only provide your child with some amount of security and safety, but it gives you the peace of mind just knowing they're alright wherever you go.