What's the use of a Fiber internet connection if you have a shoddy modem? Unfortunately, many people still rely on the outdated, often sub-par, cable modem routers their ISP's provide for them with their internet package.
To the uninitiated, here's a simplified look at why your cable modem router is important: your modem is the device that connects you to the internet, while the router is the one that transmits it wirelessly through your house or office or whatever. Getting separate modems and routers is an option, but that invites clutter, and you don't want to get Marie Kondo mad, do you?
The best way to go is to get an all-in-one, modem/router combo. While some ISP's will provide you one for a monthly fee on top of your internet charge (which is highway robbery if you ask me), you don't need to take it: instead, fight the system and get yourself your own device. Not only do you save money in the long run, but you also open yourself up to a wider variety of options.
To help you with this, we scoured the market for the best cable modem routers under $100 and chose the top 3. Check them out:
Actiontec 300 Mbps Wireless-N ADSL (GT784WN)
One of the cheapest cable modem router combo devices in the market, the Actiontec 300 Mbps Wireless-N ADSL Modem Router is your basic model if you're looking for something that doesn't come with a lot of bells and whistles.
Right off the bat, let's just say the Actiontec Wireless-N ADSL Modem Router is not for homes with multiple users, videogame streamers, or people who like to download hundreds of GB's worth of movies. It's made for DSL connections and is really only for email clients and maybe, maybe, some light browsing. It has a basic ADSL 2/2+ modem, and a basic 300Mbps wireless-N single-band wireless connection.
It's not the most attractive, nor does it have a lot of features, but it does what it says on the box: it connects you to the internet and provides you with reliable, consistent performance. This is the kind of modem router you get when all you want to do is reply to emails and maybe read the NYT online. Other than that, you'll need something a little more heavy duty.
Price: $18.91
Netgear N300 Wi-Fi DOCSIS 3.0 Cable Modem Router (C3000)
Unlike the Actiontec, the Netgear N300 actually is built for a faster internet connection. Delivering a respectable DOCSIS 3.0 connectivity with 8 downstream channels capable of download speeds of around 340Mbps, the Netgear N300 is what you need when you want to do more with your internet. It's optimized to work for most ISP's in the country, which means you maximize the monthly fee you're paying them (take that, capitalism!).
The Netgear 300 comes with wireless-N, single-band N300 Wi-Fi tech which, while not the latest nor the best, is more than enough for most casual internet users. It also has Gigabit Ethernet ports in case you want to connect directly to your cable for super-fast internet. It also has a single USB port so you can store some data from your hard drive.
It's a definite step-up from the Actiontec 300, and while it's not the most advanced cable modem router out there, for its price you're getting a sturdy, reliable, and fast device that can cater to most needs. Just don't expect seamless buffering.
Price: $70.95
NETGEAR N600 Wi-Fi DOCSIS 3.0 Modem Router (C3700)
The Netgear N600 shares many similarities with its little brother, the N300: it has DOCSIC 3.0 connectivity, and 8 downstream channels (with an additional 4 upstream channels) that are capable of 340Mbps download speeds. However, it also comes with dual-band technology, with each band offering 300Mbps connection, giving you that extra oomph in speed.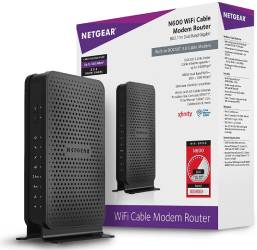 It also the Gigabit Ethernet Ports of the N300, as well as USB port for any external purposes. For all intents and purposes, the N600 is basically a beefier, faster, more powerful N300 that's capable of maintaining fast internet connections for more clients on the same network. Is it worth the extra $14? We like to think so, especially since it still costs less than most devices with dual-band technology.
But overall, if you're not willing to shell out the extra dough, or if you live in a household with only to 2-3 people who will be connecting to the internet at the same time, you're better off with the N300.
Price: $94.99
That covers our list of the top 3 best cable modem routers under $100. However, if you're willing to spend a little more than that, you should consider…
Motorola AC1900 Wi-Fi Gigabit Router and Modem
In the internet age, reliable internet connection is a necessity. From smartphones, tablets, and PC's, to wearable tech, smart devices, and gaming consoles, you'll need an internet connection that isn't just fast, it has to deliver a connection that rarely, if not never, gets interrupted, and that's what the Motorola AC1900 does.
The AC1900 can pump out speeds of 686 Mbps, which is 16 times faster than a DOCSIS 2.0 connection. It has 3 10/100/1000 Gigabit Ethernet Ports, and a nifty "Wireless Power Boost" if you want to take your internet connection outside, which it broadcasts for as far as the legal limit in the country.
Pretty much every major ISP in the country works with the AC1900, so you won't have to worry about compatibility issues. For security, the AC1900 comes with a double SPI, NAT firewall protection and DoS (denial-of-service) attack prevention helps keep your network secure.
The Motorola AC1900 is a little above the $100 budget of the other modem routers on this list, but trust us when we say: it's so worth it.
Price: $159.99