Most laptop models are built with their own cooling mechanism to reduce the risks and effects of overheating. However, as units are getting thinner and more lightweight, some cooling systems may not be enough depending on how frequently you use your laptop or how much processing it undergoes.
A cooling pad is an essential accessory to avoid laptop overheating after prolonged use. So, if you're using your laptop for video editing, gaming, or even just everyday personal or work use, here are the best laptop cooling pads you can buy online.
Choosing the Best Laptop Cooling Pad
There are plenty of laptop cooling pad types on the market, and not all of them fit what you're looking for. So, ask yourself the following questions before browsing through our picks:
What is my laptop's size? 
Is there a cooling pad for my specific model? Some laptop manufacturers or third-party accessory shops sell cooling pads designed to fit specific models.
Will I be using my laptop for gaming or for work? 
Does it need to be portable? For people on the go, your cooling pad should ideally be something thin and lightweight and can easily be stored in your bag or laptop case.
How much is my budget? 
AFMAT Laptop Cooling Pad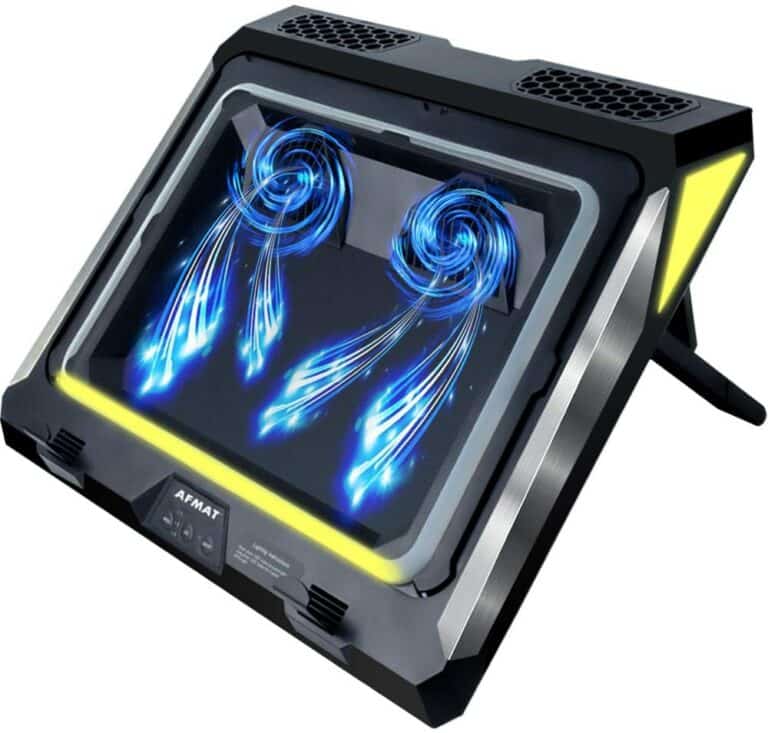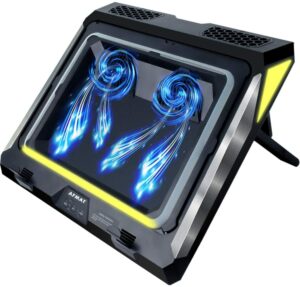 A heavy-duty laptop cooling pad from the AFMAT Store that's meant for gaming laptops but, in our opinion, is an acceptable work cooling pad as well. With multiple features to ensure maximum cooling and hardware performance, coupled with a 12-month warranty, it's one of our top picks. But it's not without its drawbacks.
It's a cooling pad made for gaming laptops, so you can expect the heavy-duty performance. But in terms of the design and LED lighting, it's not too gaudy or tacky that could embarrass a professional in a formal workplace. The lights can also be turned off or adjusted to fit the atmosphere.
It has a sealing ring design (hence the size limit) to ensure a better fit and more efficient heat dissipation. Its adjustable brackets at the back can change the angle of your laptop, making it more comfortable to use. For an added layer of protection, it has a two-way adjustable baffle, securing laptops of any thickness while on the pad. It has a dual USB interface to help with its performance.
The laptop cooling pad has double blowers and a high-density air filter that makes it easy to remove, clean debris, and reuse. It has three kinds of wind speeds: high-speed for an intense cooling effect, and a low speed for energy-saving use for less intense laptop use.
Compared to the other laptop cooling pads on the market, this is almost twice the price of your average cooling laptop. If you're looking for something more low-budget or basic, this isn't what you're looking for with all its bells and whistles adding to the price.
This laptop cooling pad is only suitable for 14-17-inched laptops with heat dissipation holes or ventilation holes at the bottom. Laptops like MacBooks and units without heat ventilation at the bottom cannot benefit from this (or, for that matter, most of the cooling pads designed for bottom ventilation).
Also, reviews claim that the blowers on the highest setting can be a bit loud. It's a given if you're going to be using it on the highest setting (though gamers wouldn't complain as the sound of their gameplay would normally drown out the sound), though everyday users with short attention spans or those who prefer working in silence may have a problem with it.
AICHESON Laptop Cooling Pad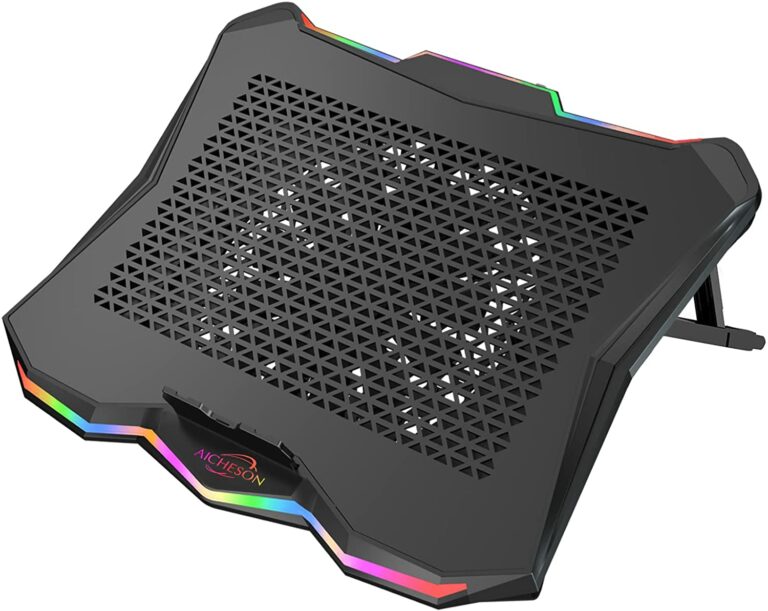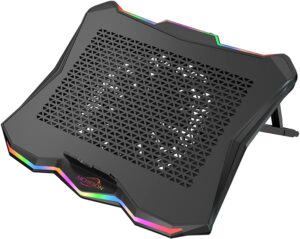 With its design and features, the AICHESON Laptop Cooling Pad is much more suited for gamers or everyday users who prefer a sharper, more colorful design.
In terms of design, it's more appropriate for a gamer than for professional use, though its rainbow (or RGB) LEDs can be adjusted or turned off completely. With the LEDs turned off, it could pass as a good cooling pad, though its angled edges are an obvious gaming feature.
The cooling pad has a metal panel that increases heat dissipation. Although the pad itself has a width of 15.75 inches, it's said to have the fan and stand capacity of up to 18-inch laptops. It has an ergonomic stand that offers seven different angled heights for a better angle when in use. It has one detachable baffle and an anti-slip pad to keep laptops of any size and thickness secure.
Although it's advertised for laptops up to 17.3 inches, users that have bought the product for their 17-inch laptop found the cooling pad to be too small. For a 17 inch laptop, expect a few inches on the sides and on the back to hang over, which can be worrying in terms of balance and holding its load.
And with its price, expect that it may not have the cooling features to match bigger, more powerful gaming laptop models. Users with gaming laptops report that the cooling pad's hardware isn't powerful enough to match the cooling hardware their own laptop already has.
Cooler Master NotePal U3 PLUS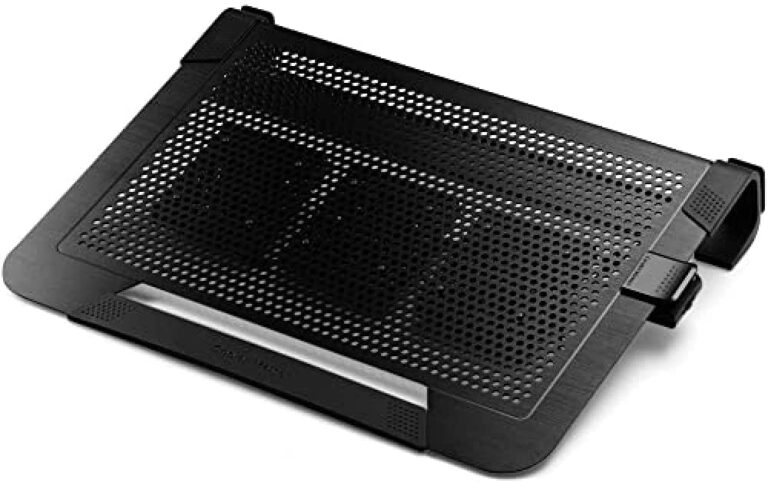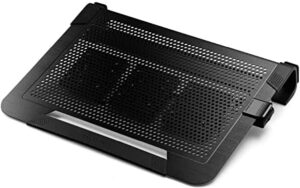 The Cooler Master NotePal U3 Plus is a step-up from the original U3 pad. It features a slimmer profile, upgraded fans, and built-in cable management to help stow away your laptop and pad with ease. But with all its features and its one-year warranty for parts, product replacement, and technical support, here's why we think the U3 Plus is worth its price.
The cooling pad has three silent configurable fans that can be adjusted to target the specific hot zones on your laptop, with a metal frame to help reduce the heat. Design-wise, it is slim and lightweight. It's marketed as a cooling pad for gamers, but with only one adjustable LED strip, it does not look like your traditional gaming pad and can look professional with any work, editing, or everyday laptop.
It has four height settings to change the angle for your comfort and has 4 USB ports available. It also has a built-in cable management feature, allowing you to organize your cabled accessories and make your laptop setup feel cleaner and more organized.
But perhaps its best unique selling feature the other two cooling pads on this list do not have is its portability: with the included safety strap, the U3 Plus itself can serve as your laptop carrier on its own. This makes it a great choice for users on the go who want the convenience of storing their laptop and cooling pad and setting it up anywhere.
Close to a hundred dollars, it's not the cooling pad for those on a budget. Users also claim in reviews that the fans are not as powerful as other cooling pads. However, the fans can be replaced by those with basic repair skills. The spacing of the grill holes on the U3 Plus match the holes required by other fans on the market.
In the end, it comes down to how heavy you use your laptop or for which purpose. The best laptop cooling pad for gaming should keep your gear's temperature in check for long periods and improve its performance. Some cooling pads also have an ergonomic design so you can raise your laptop or adjust the height as needed.
Do You Really Need a Laptop Cooling Pad?
Laptop units have their own cooling pad, but many of them are not designed with prolonged or heavy use in mind. A person who uses their laptop a few times a week to write short documents may not need a laptop cooling pad to fan their unit every use. But an editor handling hours' worth of video, a person using their laptop for work 8 hours a day for 5 days a week, or a frequent gamer with a powerful computer are more likely to get their laptop models overheating.
Prolonged overheating can have an effect on your laptop's performance. Not only is it uncomfortable to work with a hot computer, but it can also affect your unit's longevity and make the parts prone to damage and faster wear and tear. After all, your laptop's CPU and GPU aren't meant to operate at such high temperatures, but its cooling system may not be enough to get it down to the ideal temperature.
If you're still unsure whether to buy a laptop cooling pad, just think about this: do you really want to keep worrying about your laptop overheating while you're deep at work?
Buying one is always worth it, trust us.