Featured Image from: Amazon
The MacBook is possibly one of the best machines ever invented, thanks to its smooth internals, a slick user interface, and pretty sturdy exterior. However, like all machines, it's prone to human error, and no one likes the feeling of letting their brand new macbook slip out of their hands and onto the sidewalk below.
If you're like us, we like to keep our MacBook safe. To do this, we tested some of the best macbook pro 13" cases under $100 and found some of the sturdiest, most elegant, and cool-looking cases in the market today. Read on to find out more.
Moshi iGlaze Hardshell Case
Stylish & sturdy, the iGlaze Hardshell from Moshi is a two-piece case with raised, rubberized feet that are designed to withstand a fair amount of impact, while a rear vent cutout in the back improves airflow and ensures your macbook doesn't overheat.
It's a slim-fit hardshell that's been precision tooled to provide maximum protection without sacrificing aesthetics. It's thin, lightweight, and its anti-slip rubber feet can grip most types of surfaces and raise it at the same time, giving your device a steady flow of air underneath. The iGlaze has micro-clips around its perimeter for simple, snap-on installation and removal. The surface of the hardshell case is treated with an anti-scratch coating that offers complete scratch resistance from most types of surfaces. iGlaze is fully compatible with Moshi's other line of MacBook accessories.
Price: $54.94
See it on Amazon
Ion Carbonshell Macbook Case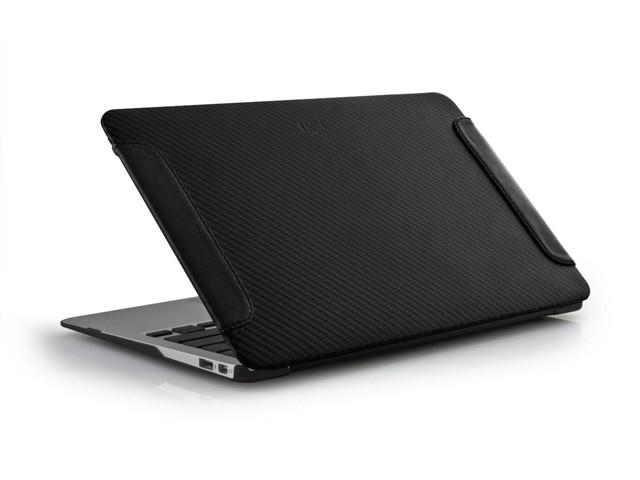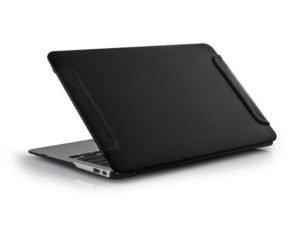 Carbon fiber macbook cases are usually very expensive, but this Carbonshell macbook case from Ion provides the same sleek design but without the hefty price tag. It's a super lightweight, ultra-thin Carbonshell case that doesn't compromise on protection to give your macbook a stealthy and menacing look. Ion's Carbonshell MacBook case is made from a special kind of polyurethane and a proprietary Ion polycarbonate material that gives their Carbonshell cases unparalleled durability for its price range.
It has a two-piece design that snaps on and off the top and bottom parts of your MacBook Pro, giving you hassle-free installation. The Ion CarbonShell also has all the necessary access points for plugs, ports, and drives, while the translucent, smoke-colored bottom is vented to help give your MacBook steady airflow.
Price: $79.99
UAG Plasma Series Macbook Case
Made of Armor Shell and equipped with impact-resistant bumpers, the UAG Plasma is one of the sturdiest cases out there and is designed specifically for people who love to bring their laptops wherever they go.
Unlike other MacBook cases, the UAG Plasma has a dual-lock secure screen closure that protects your screen from scratches and shocks, something that other cases will not have the ability to do. It's fully compliant with military-standard drop test requirements (MIL-STD 810G 516.6). UAG Plasma's polycarbonate case comes is clear, grey-tinted, and is scratch-resistant. It is heavier than most, but the added heft is worth it when it comes with this kind of protection.
Price: $79.99
See it on Amazon
BookBook Vol.2
For the bookworms who never want to leave home without a trusty novel under their arm, the BookBook Vol.2 is Twelve South's latest foray into specialty cases that turn your MacBook into quirky, beautiful books. The BookBook Vol.2 is made from high-quality leather, with detail stitching all around to give it a more authentic feel.
Despite the antique vibe it gives, the BookBook Vol.2 is anything but fragile: it has a soft, microfiber-lined interior that protects your laptop from within. The faux-hardback covers in the front protect your MacBook from bumps, shocks, and scratches, while the high-quality zip ensures that accidental openings won't occur.
To add to its charm, the BookBook Vol.2 also has a secret compartment on the inside for sensitive and important documents, which is in line with Twelve South's commitment to protect its clients by making their MacBooks look like vintage books.
Price: $79.99
See it on Amazon
Alvin Industries Real-Wood Macbook Case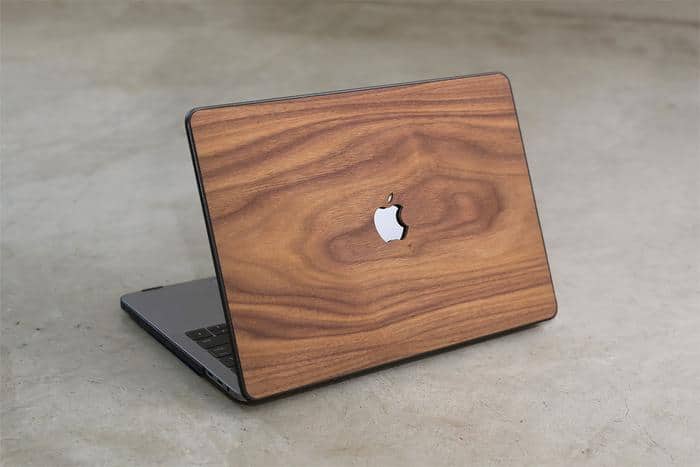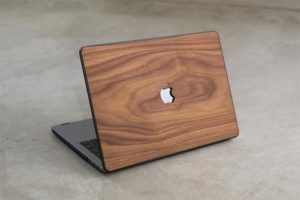 One of the most luxurious-looking cases you can get for your MacBook pro, Alvin Industries line of real-wood MacBook cases give your MacBook supreme protection while giving it a unique and unparalleled sense of style and elegance.
If you're worried about the impact these cases have on the environment, don't worry: Alvin Industries uses only 100% sustainable wood for all its products and their manufacturing processes follow green industry standards.
Because wood has naturally-occurring grains, each case has a completely unique design and is fabricated by hand. The bumper feet and bottom-ventilation help keep your MacBook cool, and the snap-on/snap-off design means you can outfit your laptop easily and without hassle.
Price: $99.99