CD's are now a thing of the past: remember when you had those giant booklets music CD's just hanging around in your car? Yeah, I can't remember the last time I saw one either. Back then, you could kind of get around this by having a multi-CD changer in the trunk that held 4-5 CD's at a time, but once you got tired of that playlist, you'll have to stop the car, go around the back, and manually replace all the CD's one at a time.
Who has time for that?!
Luckily, the tech world has stepped up, and over the past few years, smart stereos have become commonplace in most cars. Touch screen car stereos used to be this new fangled device that was bulky, expensive, and aside from looking cool, didn't offer much in terms of features. But now, most touch screen car stereos don't just play music from your media apps or play the radio, it can also be used to display critical components of your car, connect to your phone via Bluetooth to make calls, watch movies (although you really shouldn't if you're driving), or display traffic information, all for very affordable prices (if you know what to look for!)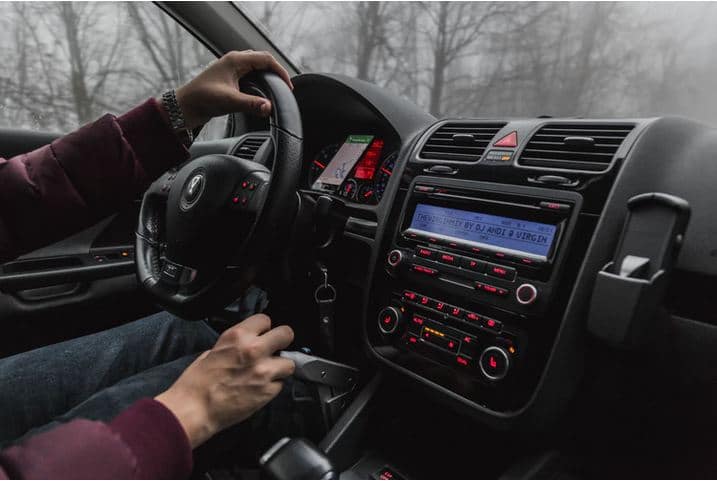 Finding the best touch screen radio isn't just about getting the cheapest one, it's about finding one that can do it all: stream music both from your phone or a USB drive, run your phone apps via Bluetooth, and basically make your life easier by making most of your needs hands-free. Here are our top picks for some of the best touch screen car stereos in the market today.
Boss Audio Single DIN Touch Screen Stereo
While it can be tempting to go for double DIN touch screen stereos, it's not always the most useful, particularly because most cars come in single DIN. For this, one of the best in the market today is the Boss Audio Single DIN Touch Screen Stereo.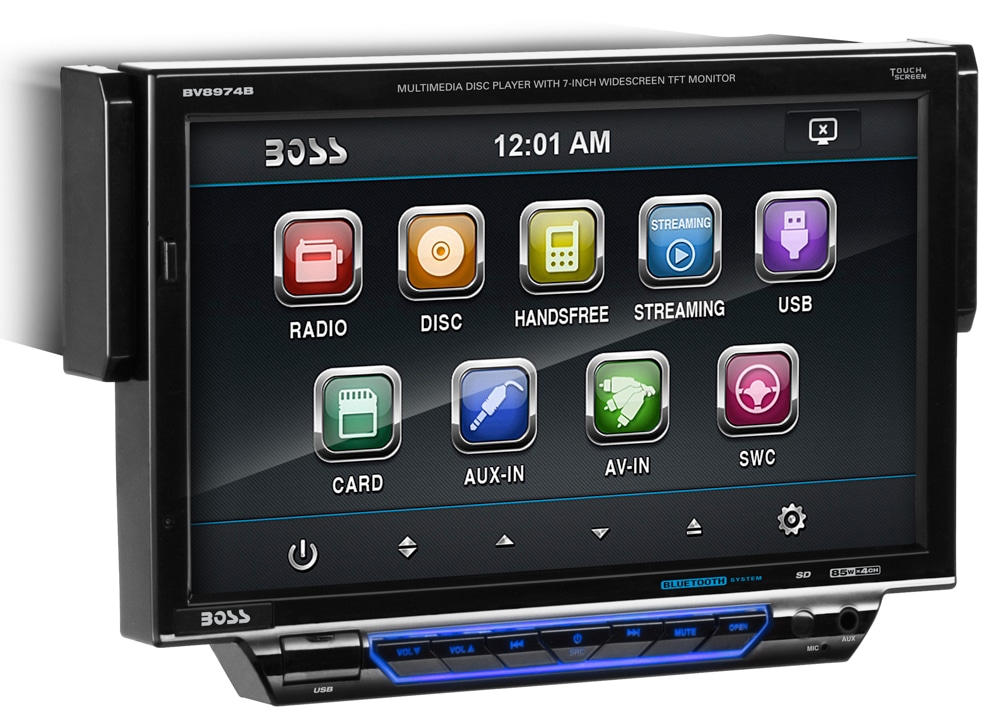 Despite being only slightly over $100, the Boss Audio Single DIN provides premium features, one of the most important being the sheer number of formats it supports. Aside from streaming music from your phone or mp3 player via Bluetooth or from a USB plug-in, it can also play DVD's and CD's. The Boss Audio Single DIN has all the physical input slots the modern man needs: USB, SD Card, CD, and AV inputs are all provided for. Dash cams and rear view cams can also be setup and synced with the unit.
A big downside, however, is its aesthetics. Boss Audio is known as a budget manufacturer of audio products, and while the quality of their sound output is impressive for its price range, the physical units are not so. The dials and the casing of the Boss Audio Single DIN are made of plastic, giving them a very cheap and budget feel.
But beyond that, however, the Boss Audio Single DIN Touch Screen Stereo offers people premium features at an affordable price.
Price: $120
Jensen VX3022 2 DIN Multimedia Receiver
Much like the Boss Audio, the Jensen VX3022 supports a wide range of formats, but unlike the Boss Audio, the Jensen has a 6.2 inch screen thanks to its double DIN setup. It still has the bare bones feel of most budget touch screen car stereos, but it does give you a lot of luxury in terms of capabilities. A steering-wheel control center add-on can also be purchased to give you more control over your stereo.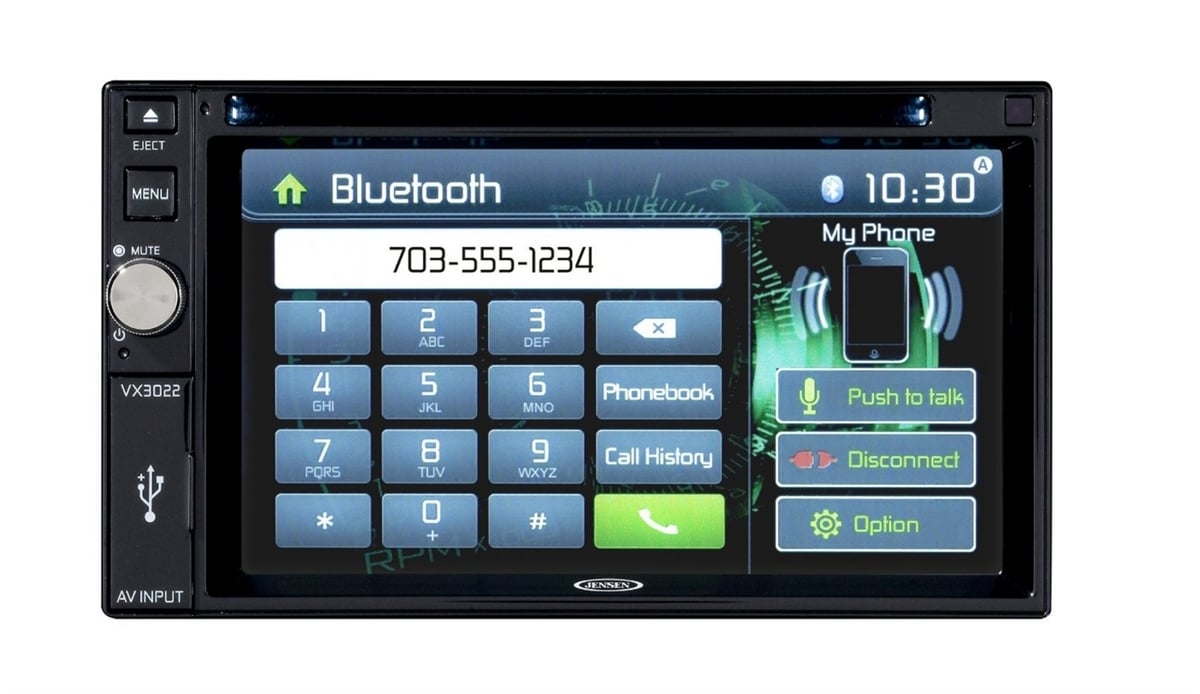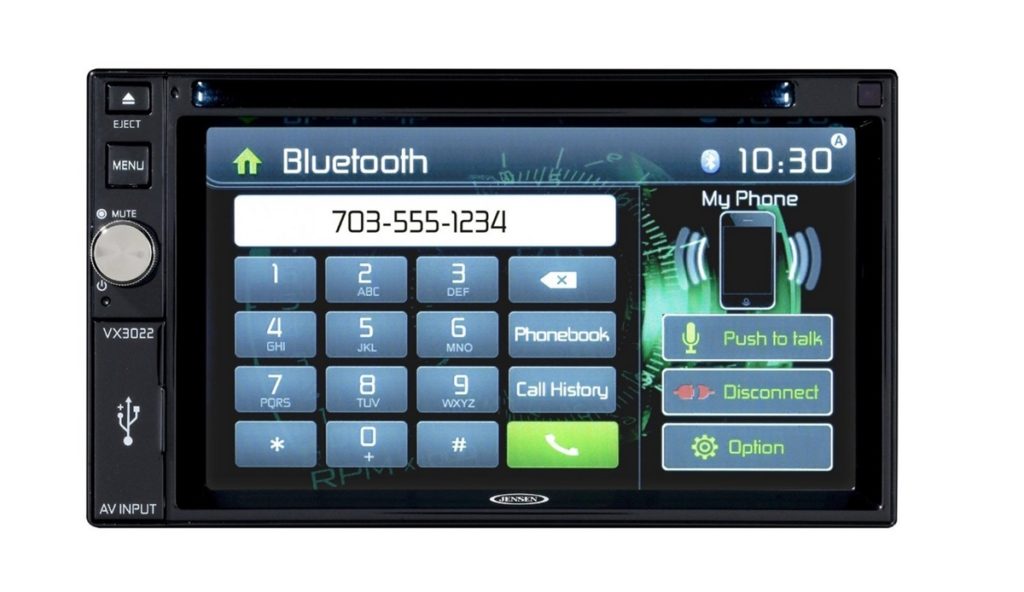 The unit is capable of supporting Android, Blackberry, and Apple devices and can be setup to play DVD's with top notch resolution. It has Pandora, Slacker, SXM, iHeartRadio, TuneIn, and Spotify pre-loaded, so you won't have to worry about running out of things to listen to. These apps are important because, despite the CD input, the Jensen VX3022 only supports standard CD formats, so most downloaded files will probably not be accessible. It also doesn't allow hands-free app navigation, so you might want to keep your hands on the wheel at all times.
All in all, the Jensen VX3022 is great for anyone looking for a budget touch screen car stereo with a sizable screen albeit with limited features.
Price: $129.99
See it on Amazon
Pioneer AVH-280BT
One of the most well-known and beloved brands in car stereos, Pioneer offers top-of-the-line products that provide premium features while looking like an expensive stereo because, well, it is: the Pioneer AVH-280BT clocks in at almost $270, and that's mid-range for Pioneer.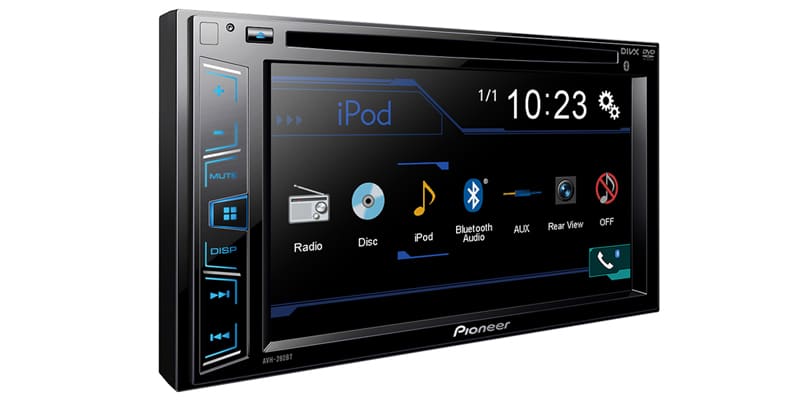 What makes them so expensive? Well, for starters, they're sturdy: Pioneer stereos are known for their durability and longevity, not to mention the range of things that their products can do. For the AVH-280BT, the unit can play any known data formats, from .AVI and .WMV, to .MP3 and .MP4. It also has 5 on-screen languages to choose from, just in case you want to feel a little more international and sophisticated. The unit also comes with other premium features like hands-free control for most apps, video support, and it's all powered by Pioneer's proprietary NEX intuitive user interface.
Price: $227.99