With social media sites, video games, and other entities in the tech industry starting to incorporate VR and AR into their interface, it's high time that we all got on the VR headset trend. There's just one problem, though: most of the big name brands like Freefly, Zeiss One, Homido, or Durovis Dive are way beyond the budget of the regular techie, not to mention being difficult to use.
But lucky you, our team scoured the market to find you the best VR headsets under $100. That's right, for less than the price of 2 console games, you can get yourself a snazzy headset that allows you to jump into your games. Play in 2D? What is this, the stone age?!
Aside from the price, we also looked at the headsets comfort, ease-of-use, and compatibility with different devices. So, here's our list of some of the best VR headsets under $100 that are available in the market today.
FiiT VR 2S
The problem with early-model smartphones (like the Samsung Galaxy S8 and below) is that they tend to be incompatible with the latest VR headsets. However, the FiiT VR 2S gets around that by requiring just a working gyroscope with your smartphone. Luckily, most phones released in the past few years have this feature. (On a side note: having a gyroscope on your phone is very much useful; you should consider getting a smartphone with this sensor)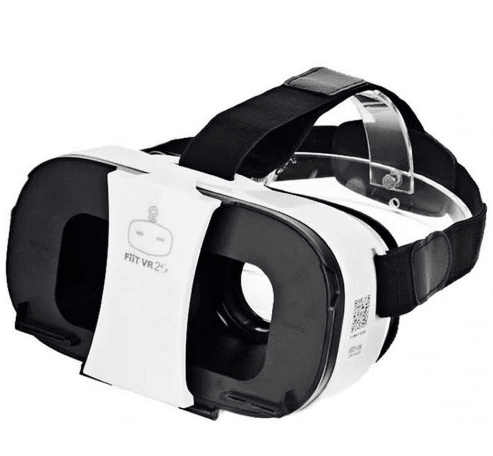 The FiiT VR 2S is a low-end, Cardboard-compatible VR headset that gives older smartphone models the ability to produce a VR experience. It has an acceptable 102° field of view, ultra-lightweight, very comfortable (not too tight that it messes up your hair, not loose enough that it feels like it will fall off) and extremely easy to use: just slide your phone into the back panel, and enjoy. The lenses on the FiiT VR 2S can be focused individually and is helpful for people with vision problems.
One of the downsides, however, of the FiiT VR 2S is its lack of built-in buttons. To be fair, most VR apps don't need external buttons anyway; however, it's usually nice to have one. If you're lucky, though, sellers might include a free external controller with your headset. If you can't find an external controller, don't worry: Android phones can be programmed to act as one. For iPhone users, however, tough luck, you'll just have to make-do with apps that don't need external controllers.
Price: $18 to $22
Goggle Tech C1-Glass
Don't be fooled by this diminutive "headset". I use the term "headset" loosely because when you see the Google Tech C1-Glass, you'll be forgiven for mistaking them for a pair of eyeglasses with its tiny two-arm setup. However, this is its huge appeal for us, the ability to take a VR headset and make it accessible to everyone.
By eliminating the need for a bulky body and just strictly sticking to lenses and something to attach it to a phone, the C1-Glass makes it easy to access the screen at any point in time –instead of needing a controller or external buttons, just tap the screen to do whatever you need.
It's also a great teaching tool for people who want others to experience virtual reality in a quick and easy way. Of course, this stripped-down, barebones version of a VR headset might not be to everyone's liking, particularly for those who love immersing themselves in the whole VR experience, but it is a great entry point for people who are just now becoming interested in the potentials of VR.
Price: $9.99
Mattel View-Master Virtual Reality
If you're a proud 80's or 90's kid, you probably remember the classic Mattel View-Master: it's a toy that looks like a pair of flat binoculars with a slit on top where you can insert these discs with stereoscopic 3D images. A lever on the side controlled the disc, and as a kid growing up without smartphones or VR or any of that stuff, this was the most exciting toy to play with.
Thankfully, Mattel is bringing the View-Master experience to the new generation with their re-imagined Mattel View-Master. Bearing the same name as its predecessor, the new Mattel View-Master is basically a fully-functional Google Cardboard headset, but with the added twist of "experience reels", basically updated versions of the stereoscopic discs the classic ones came with, but this time, rather than flat images, the experience reels are scanned using Augmented Reality and accessed via the View-Master for some great AR fun.
It does have a couple of drawbacks: for one, the lenses aren't adjustable, so your eyes kind of have to be perfect to use these. The headset also doesn't fit over glasses and no straps are provided. However, get past that, and it's a headset that everyone in the family can enjoy, from kids to older kids, and even for the adult kids and the kids-at-heart.
Price: $14.70
Samsung Gear VR
It's THE must-have accessory for Samsung smartphone users, especially for those rocking the latest Galaxy models. The Gear VR comes with extra built-in sensors for unparalleled performance and a VR interface that lets you do a multitude of tasks like load apps, update critical systems, and even switch between apps.
The newest Gear VR has a Daydream-style motion controller, something that puts the Gear VR to the level of the Daydream (which, in my opinion, is still the gold standard of VR headsets) in terms of user interface and user experience.
The Samsung Gear VR gets its apps from the Oculus store, giving you access to the VR giant's impressive (not to mention exclusive) collection of apps, games, videos, and more.
One glaring downside, though, is its inability to play other Google Cardboard-compatible apps. The native Samsung OS takes its exclusivity seriously, so if you want to get something from Google Cardboard, you'll have to get a bare bones version to play it (like the C1-Glass)
Price: $62.95
Daydream View
The Daydream View is, in my opinion, the best VR headset under $100. First of all, it ships free with a Pixel XL smartphone (although you can also buy it separately). Secondly, its ease-of-use is incomparable: the interface, the headset itself, even its straps and compatibility and slides are all so ridiculously smooth and intuitive. Because it comes from Google, it has access to one of the largest libraries of apps. Plus, it's an open platform, meaning other companies and manufacturers can create their own versions, which means more diversity and customizability.
Any Android phone running Nougat and up can use the Daydream. It's light-weight, compact, and the design is kept simple, in line with Google's overall minimalist aesthetic. The Google Daydream has, in my opinion, THE best mobile VR controller in the market today: 3 buttons (one of which is a trackpad), volume control, and of course, built-in motion sensors.
Why is the last so important? Think of it this way: download a fantasy-themed VR game, and your humble controller immediately becomes a sword. Download a sports game, and you have an instant golf club or tennis racket. It's versatile, it's cool, and most importantly, it brings out the geek in you. It's what VR promised us back in the early '90s, and more.
With virtually no configuration required, it's the most usable VR headset you'll find anywhere, beating out "premium" models like the Oculus Rift, or the Hive from HTC. All you need to do is download the Daydream App, place your phone in the Daydream headset, and the app will automatically program itself to be compatible with your phone. If you were to get just one thing, let it be this.
Price: $59.12