[Note: We've recently updated this list  for 2021]
Finding the best Wi-Fi extenders for your home might seem easy, but with so many products out there, how do you find one that can effectively boost your wireless network throughout every room in your house?
Well, we tested out some affordable Wi-Fi extenders and found the top 5 Wi-Fi extenders that you can get on a budget.
Best Wi-Fi Extenders on Our List

So, what is the best Wi-Fi extender? We consider these 5 key elements:
Wi-Fi Compatibility – You can have the most expensive, most powerful Wi-Fi extender possible, but if it doesn't match your router, you might as well just throw your money out the window.
Internet Speed – It's not so much that your extender won't be able to boost your wireless network, but if your router is rated for 2000 Mbps and your extender can only go up to 1200 Mbps, then you're kind of short-changing yourself.
Security Standards – The latest internet security standard should be enough. Of course, if you feel like you need an extra level of security, like to protect sensitive data, then you'll need heavier encryption. Otherwise, the standard WPA2-PSK (AES) should be fine for most homes.
Ease of Use – Very important for homeowners, especially for people who aren't internet-savvy and just want something easy to use. Luckily, most of the Wi-Fi extenders on this list can be set up and activated with just a few simple steps.
Price – Those just looking to avoid making their home office a dead zone may want something cheaper, while those looking for bigger coverage like their entire house should expect a more expensive extender system.
With that in mind, let's move on to our list of the best Wi-Fi extenders that you can buy today:
Best Wi-Fi Extenders for Smart Homes
These Wi-Fi extenders are the ideal choice if you're looking to solve only one or two rooms with dead zones.
TP-Link AC1750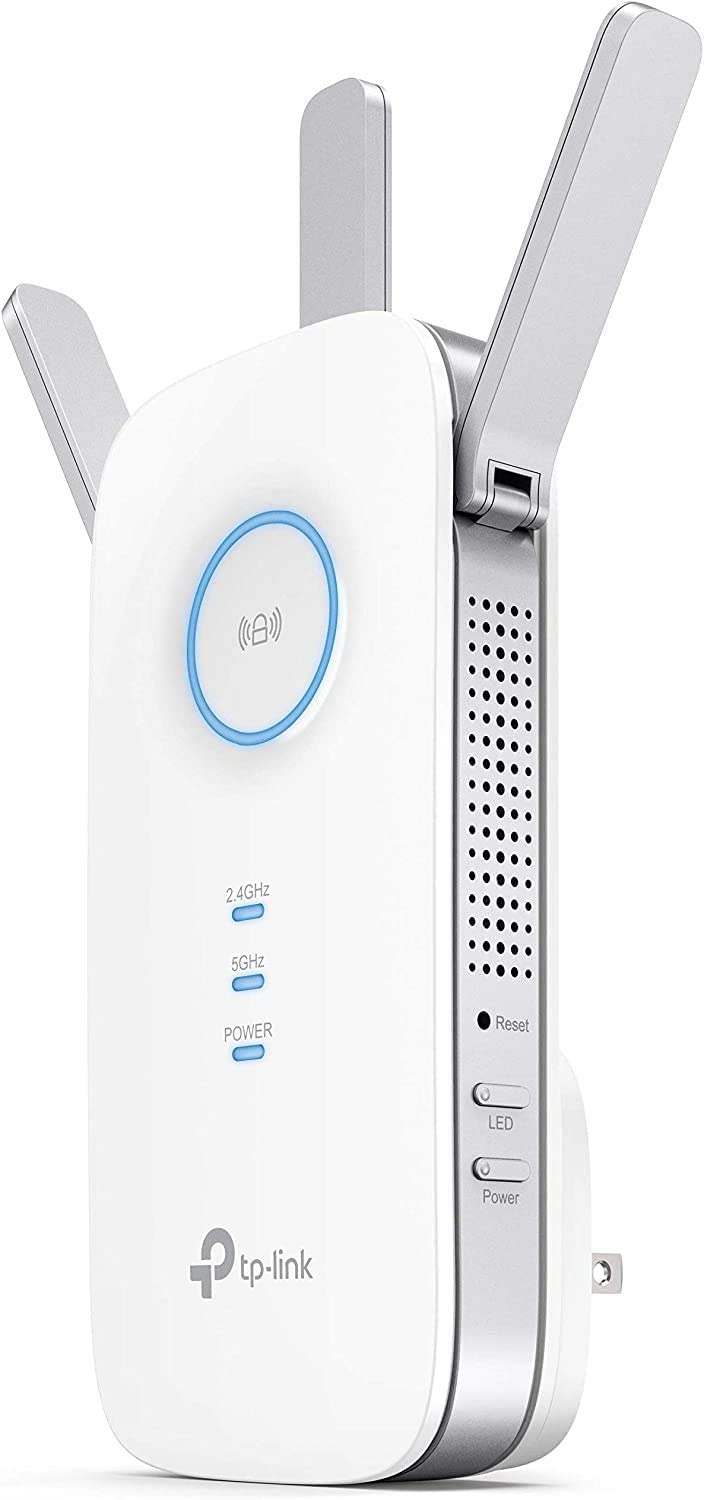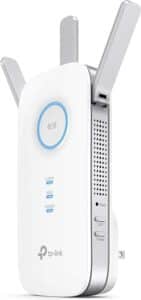 Up to 2,000 square feet in coverage with up to 32 devices
Compatible with any router, gateway, or access point
Smart indicator to find best setup location
Designed to increase or improve Wi-Fi coverage
Intuitive mobile interface
A PCMag Editor's Choice, the TP-Link AC1750 offers dual band Wi-Fi range for up to 2,000 square feet up to 32 devices. That's coverage good enough to cover more smart devices at home that may not be within your original router's reach. It also allows expanded coverage for other devices like smartphones and laptops, making it a valuable device for large homes with multiple corners.
The AC1750 achieves this with an external three-antenna array that manages to beam your Wi-Fi across a larger space, and the signal is strong enough to push through most residential walls.
One of its best features, is it can be managed through the TP-Link Tether App, a free app that can be used using any Android or iOs device. The app lets you set various restrictions, protect against unrecognized users, setup an SSID or password for access, and even helps you find the best place to put your device.
Of course, it's not perfect: the TP-Link AC1750 only has one ethernet port, which means you can have only one device directly cabled to it at any given time. Some users have also reported that the device itself can cause your internet speed to slow down, especially when nearing the maximum range of the extender.
But overall, the TP-Link AC1750 does what it says on the box: it's one of the best wifi extenders in terms of range and is perfect for people living in large houses.
Trendnet Wi-Fi Everywhere Powerline 1200 AV2

TRENDnet Wi-Fi Everywhere Powerline 1200 AV2 Dual-Band AC1200 Wireless Access Point Kit, TPL-430APK, Includes 1 x TPL-430AP and 1 x TPL-423E, Dual-Band Wireless AC1200 Access Point,3 x Gigabit Ports
Other than a Wi-Fi extender, your next best bet will be using a powerline adapter. It works roughly the same as a regular extender, but has the advantage of connecting directly to your modem. Performance-wise, it's an upgrade on the usual Wi-Fi extender, especially because it can close your network's SSID and WPA keys at the touch of a button.
The Trendnet Wi-Fi Everywhere Powerline adapter allows users to project dual channel Wi-Fi across all corners of the room with an advertised speed of around 1200 Megabits.
In terms of security, the Trendnet Powerline has a nifty 'clone' feature that copies your Wi-fi's existing SID and password, which makes it one of the best choices for people who live in smart homes. The 'clone' feature allows you to connect your Powerline with your other devices without having to reprogram them to the new access point. It's like getting the best of a Wi-fi extender and a powerline adapter.
The only downside is the design. It looks like a piece of industrial equipment that doesn't go with your other modern devices. It's also only available in the U.S. and the U.K. It has a fairly wide Wi-Fi module, which means that older dual sockets might obscure the second and third LAN ports.
Linksys RE7000 Max-Stream AC1900+ Wi-Fi Range Extender

At just under $100, the Linksys RE7000 Max-Stream AC1900+ Wi-Fi is a mouthful, but it's also a great choice for people who want a basic, easy-to-use, and reliable Wi-Fi extender for their modest homes or small offices. It comes with your standard Wi-Fi extender fixins', along with a great 'deadspot' finder where you could install the device so that every nook and cranny of your space gets Wi-Fi coverage.
The RE7000 Max-Stream is easy to set up, with a quick and efficient guide even the most basic of beginners can understand. Once it's ready, the RE7000 Max-Stream allows for dual-band operations and, using the latest in Wi-Fi tech, can bring you speeds of up to a whopping…261.9 Mbps from a 50-foot range.
The Max-Stream extend the Wi-fi range significantly without any external antennas. That's one of the main selling points of this Wi-fi extender for people living in smart homes: it's designed with the smart home aesthetic in mind. It also comes with an app that can be downloaded onto your smartphone and allows for a slew of connectivity options, from setting up an SSID to parental controls.
Linksys Velop Wi-Fi extender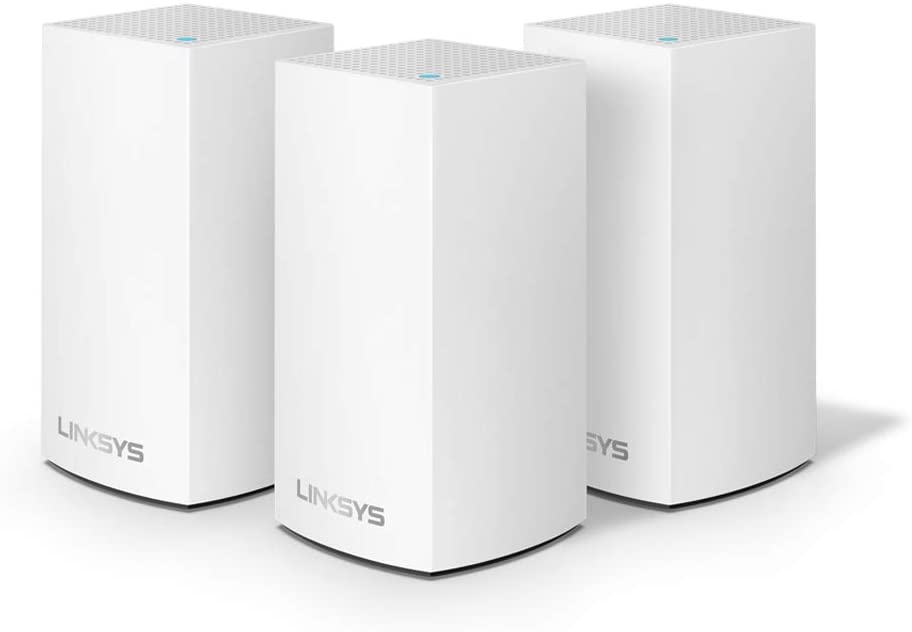 Wi-Fi mesh simply refers to a system of satellite modules or nodes that extend your Wi-Fi's range to give your home full coverage. The Linksys Velop Wi-Fi extender does this and makes setup easier, making the antiquated range extender-plus-router setup outdated.
Linksys' Velop Wi-Fi extender has a user-friendly setup that anyone from IT experts to your average internet Joe can use with their smartphone. The device itself is sleek and inconspicuous, so it can blend in with any kind of home setup.
It's pricier than other Wi-Fi extenders in its performance range. Whether the ease-of-setup and ease-of-usage is worth the extra bucks, that's up to you. Optimum performance is still very dependent on where you position the extender.
NETGEAR WiFi Mesh Range Extender EX6150

Up to 1,200 square feet in coverage with up to 20 devices with up to 1,200 mbps
Seamless smart roaming
Universal compatibility
1 wired ethernet port
Supports WEP and WPA/WPA2 wireless security protocols
Despite having less coverage at 1,200 square feet, the NETGEAR WiFi Mesh Range Extender EX6150 offers mesh smart roaming. It allows connection with up to 20 devices at a max speed of 1200 Mbps.
The NETGEAR Wi-Fi Mesh Range Extender manages to maintain a steady connection within its operational range of 1,200 square feet. Even with corners and thicker-than-average walls, internet speeds won't have a drastic drop, and the smart roaming tech allows users to go from room-to-room without having to worry about disconnecting.
The NETGEAR Wi-Fi Mesh Range Extender also uses WEP and WPA/WPA 2 security protocols, which means your internet connection is secured from unauthorized users. The device also pairs with the Nighthawk app from NETGEAR which allows users to tweak even more security settings like SSID, passwords, and parental controls.
The downside: NETGEAR Wi-Fi Mesh Range Extender allows for stable connections across its coverage area, but it only offers standard Wi-Fi connections for both video streaming and online gaming. Expect higher-than-usual pings the farther you are from your Wi-fi source.
NETGEAR WiFi Mesh Range Extender EX7000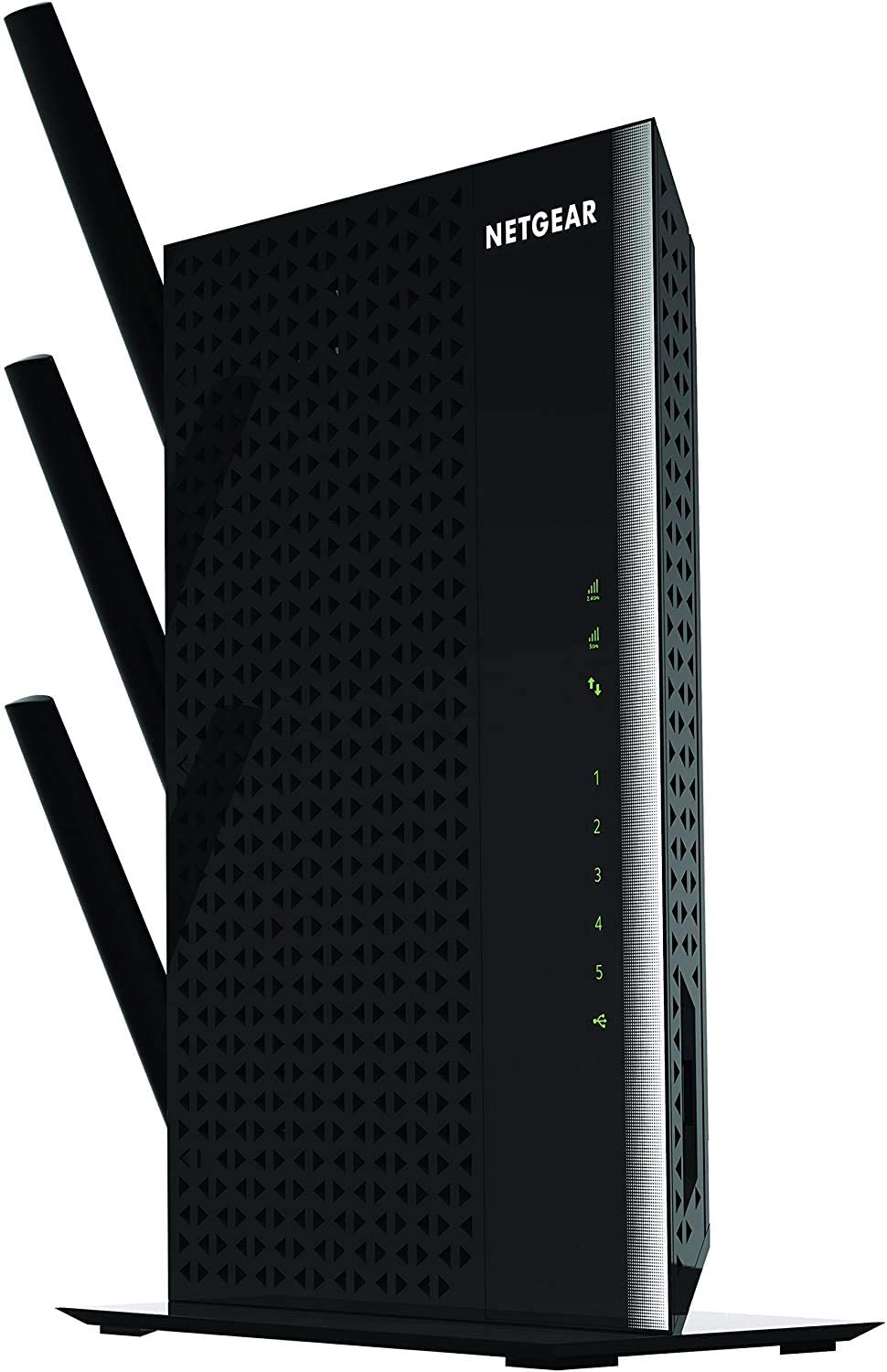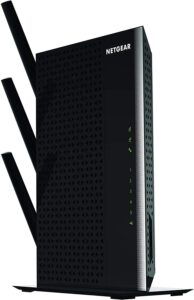 Up to 2,100 square feet with up to 35 devices up to 1,900 mbps
Seamless smart roaming
Universal compatibility
Wired ethernet ports for maximum speed
Parental controls available through NETGEAR Wi-Fi mobile app
The NETGEAR WiFi Mesh Range Extender EX7000 is a step-up from its little brother the EX6150, allowing for connection with 35 devices, 15 more than the latter. This is the perfect Wi-Fi extender for a completely smart home, with seamless smart roaming tech allowing you to move from room-to-room in a 2,100 square foot operational coverage area while maintaining a constant connection. Speeds cap at 1900 Mbps, but real-world tests have shown devices rarely dropping below 500 Mbps of connection. But if you need more speed, the EX7000 has multiple ethernet ports that allow you to fully utilize the 1900 Mbps maximum.
It does this using Dual-band FastLane technology that allows for high-speed streaming across a larger wireless coverage area. The device also connects to the  Nighthawk app that allows you to tweak a whole bunch of security and connectivity options.
It has three amplified external antennas that allows it to broadcast your Wi-fi over such a huge range, but the design of the device remains sleek and even inconspicuous. A couple of downsides, though: the EX7000 can be expensive, especially for people who are just looking to clear out dead zones in their house, which means the EX7000 is more suited for fully-smart homes rather than regular homes. Internet speeds are fairly constant, but the EX7000 is more suited for HD streaming rather than online gaming, so maybe stay closer to the device if you don't want to encounter sudden spikes in your ping.
Best Wi-Fi Extenders for the Whole House
The best Wi-Fi extenders for home use, these units allow the entire house to be covered and leave very little dead space.
TP-Link Deco M3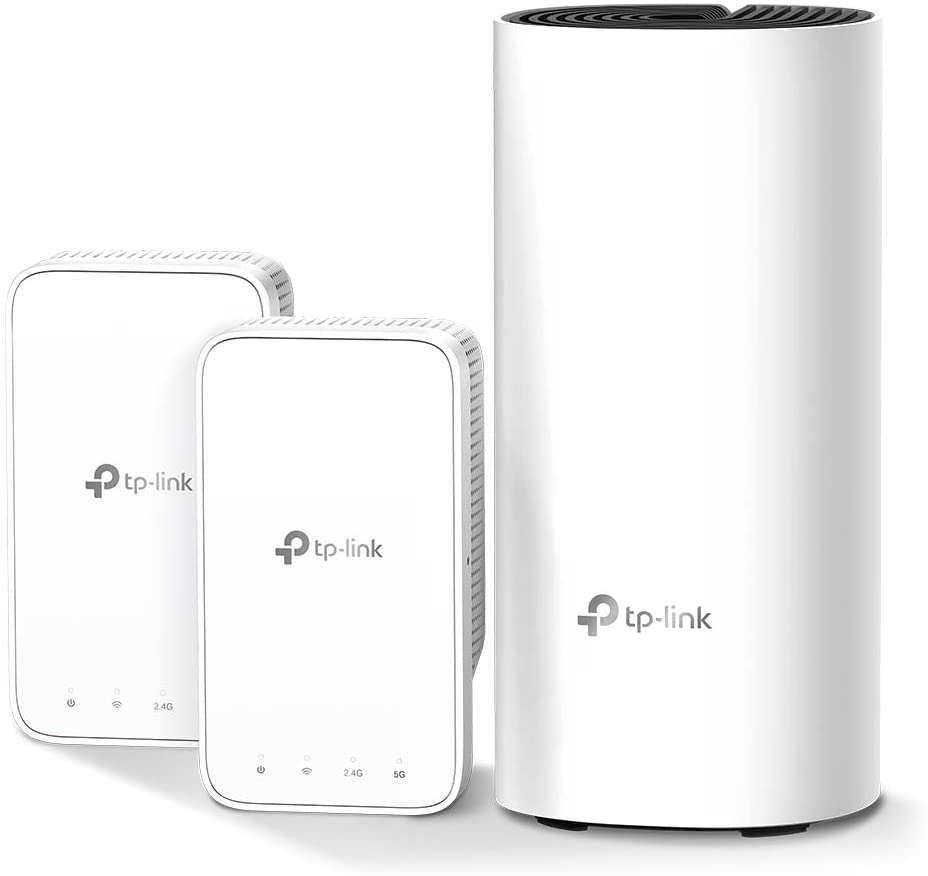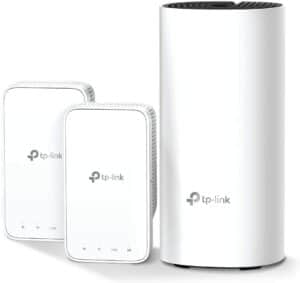 Up to 4,500 square feet
3-pack whole home mesh Wi-Fi system
Parental controls to limit online time and block websites according to profile
Eliminates dead Wi-Fi zones throughout the house
Alexa-compatible, can also be controlled through mobile app
For homes or small businesses looking to keep their all their laptops and other devices connected, TP-Link's Deco M3 3-pack is an award-winning Wi-Fi extender that offers up to 4,500 square feet of coverage, seamless roaming, Alexa- compatibility, and more. It's perfect for small to medium homes, too, especially for parents with children who want parental controls on their Wi-Fi.
The TP-Link Deco Mesh is perfect for eliminating dead zones. It's a 3-pack whole home mesh Wi-Fi system that can provide comprehensive Wi-Fi coverage throughout a house without worrying about fluctuating internet speeds or random disconnects. The 3-pack system is connected to each other, so you won't need to switch names and passwords when transferring from one extender to the other.
It's fully compatible with Alexa, and other connectivity options can be controlled using the TP-Link mobile app, which comes with the device. This app allows you to tweak each device so that you can favor connectivity in one area over others, should you need it.
TP-Link Deco S4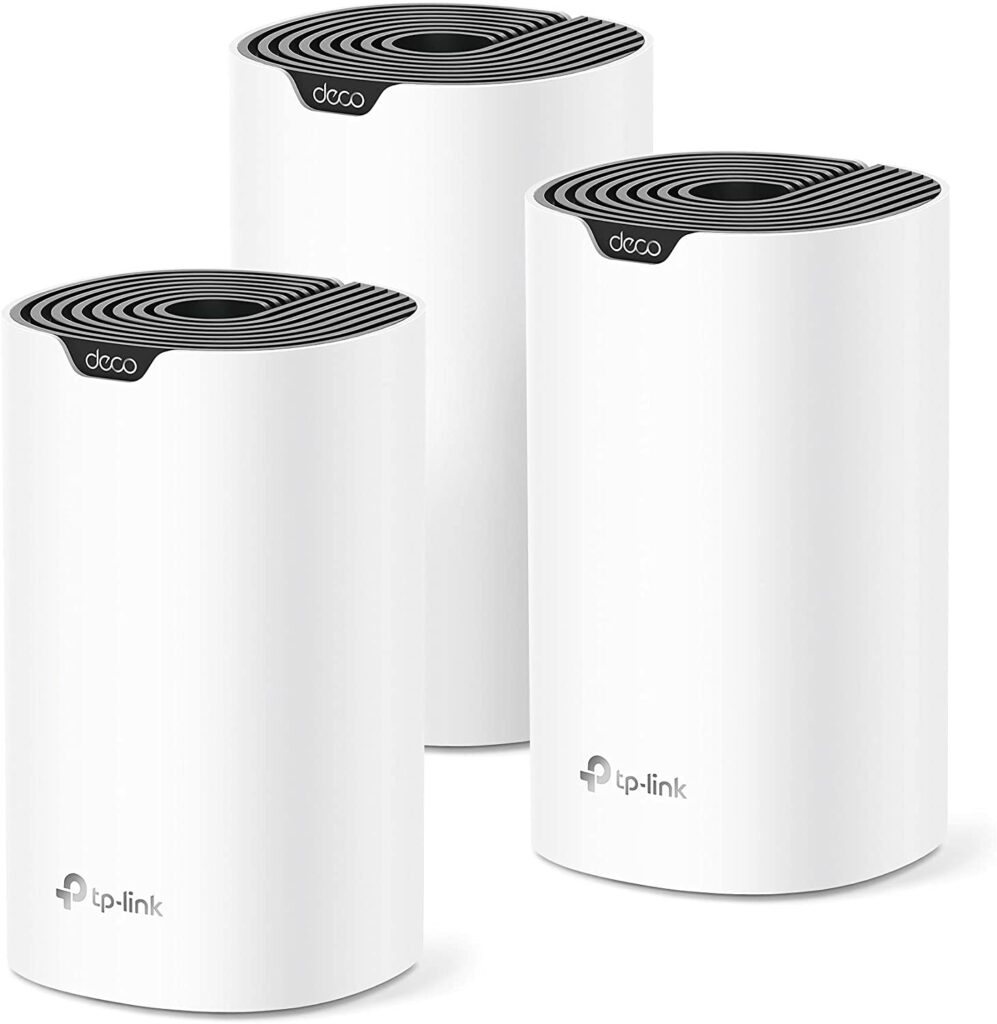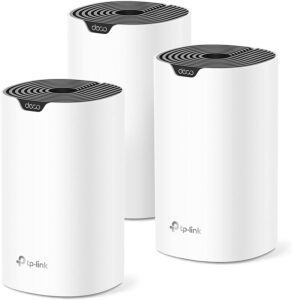 Up to 5,500 square feet up to 100 devices
3-pack whole home mesh Wi-Fi system
Seamless roaming throughout the house
Easy installation and setup
Alexa-compatible, can also be controlled through mobile app
The TP-Link Deco S4 offers the best Wi-Fi extender solution for the big family who wants seamless internet anywhere in a home up to 5,500 square feet. Just like the TP-Link Deco Mesh M3, the S4 uses a mesh network that allows for uninterrupted connection at consistent speed.
The device allows for a whopping 100 devices to be connected to it. And because it uses AC1200 speeds, fast internet is to be expected.
The S4 also plugs directly into the router, which means the entire network will share a single username and password. The device is Alexa compatible, which allows users to regulate and manage all the devices using Alexa as a hub. It also utilizes the TP-Link mobile app giving you more connectivity options that you can apply either per device or across the entire wireless mesh.
Best Budget Wi-Fi Extenders Under $50
Under $50, these best inexpensive Wi-Fi extenders are perfect for those on a budget looking to extend their Wi-Fi signal.
Amped Wireless SR300 High Power Wireless-N Smart Repeater and Range Extender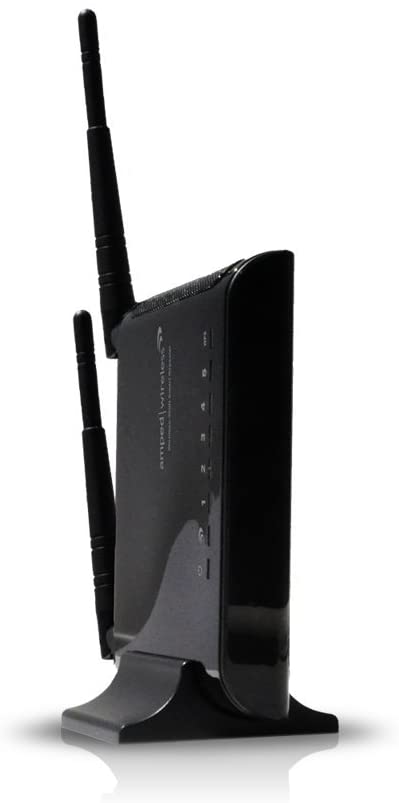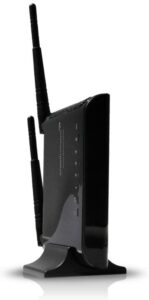 Up to 5,000 square feet
High-speed Wireless-300N great for video streaming
Works with most Wi-Fi routers
Smart Security features
Up to 5 additional wired ports
Crossing the $30 threshold, this 600mW repeater and extender boost wireless networks so much better and farther than cheaper models thanks to its 5 dBi antennas that can extend your network to outside your house.
The Amped Wireless-N works as both an extender and a repeater, with speeds of over 300 Mbps and extending standard 802.11 b/g/b routers and networks to its max operational coverage. It also features 5 wired ports and is universally compatible with most Wi-Fi routers.
But one of the best features of this device is you can creating additional wireless networks that can be modified to have certain connectivity options. Perfect for creating guest networks or controlled networks that kids can access. The large coverage of the device means that dead zones are practically impossible with the Amped Wireless-N, although the lack of smart roaming capabilities means that connectivity issues might arise, especially if you don't set up the network properly.
And that's where the downsides start kicking in: the Amped Wireless-N is notoriously hard to setup, let alone manage. There have also been some reports of people losing connectivity as they near the max range, but at $30, that's practically expected.
NETGEAR EX3700 Wi-Fi Range Extender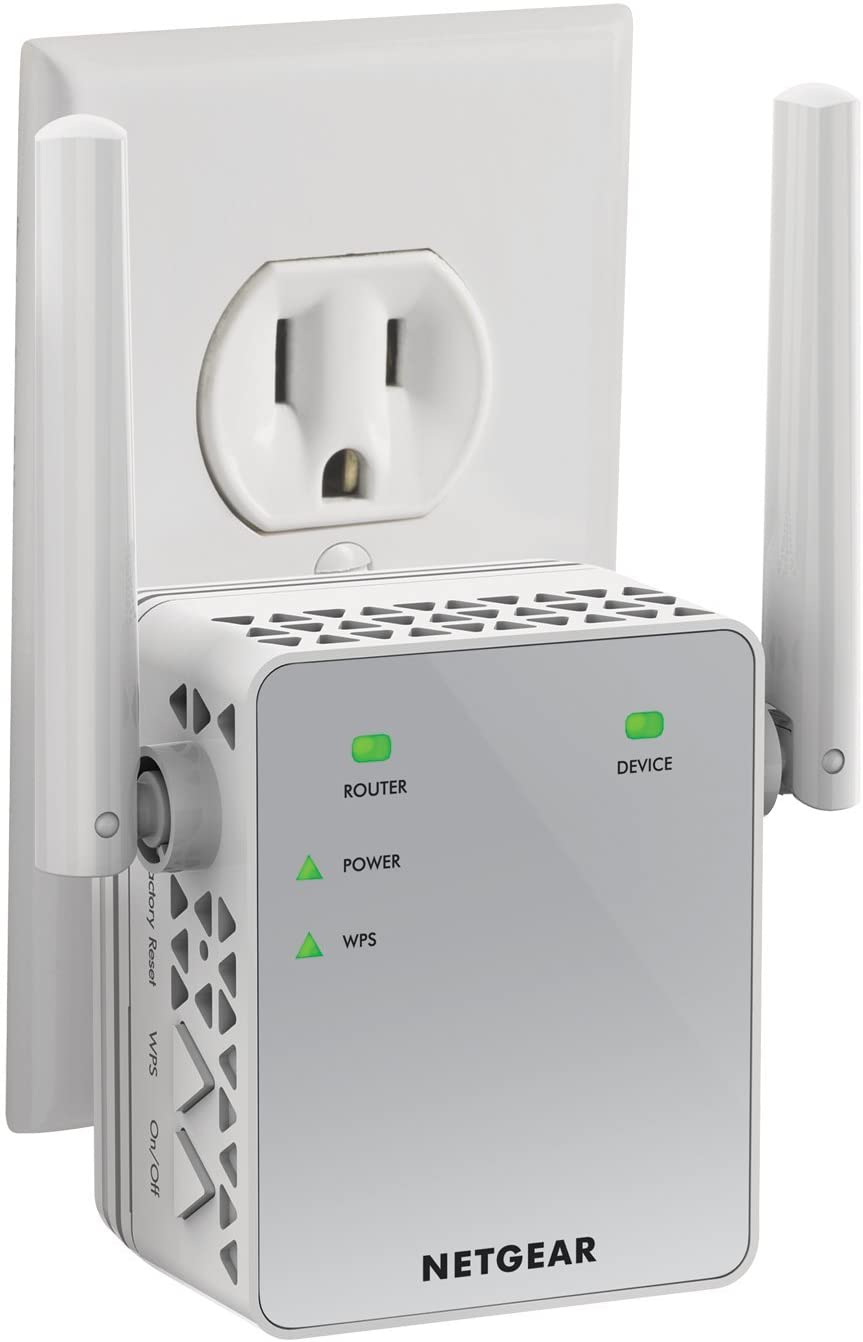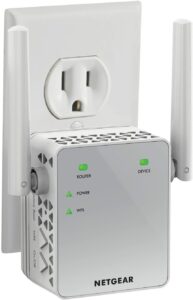 Up to 1000 square feet and 15 devices
Universal compatibility
Supports WEP and WPA/WPA2 wireless security protocols
Connect up to 15 devices
One-touch setup
The Netgear EX3700 has a few perks that come with the extra dollars: first, it's very effective at boosting dual-band Wi-Fi signals; this means that it doesn't just improve Wi-Fi for desktops and laptops, but also for iPhones, Amazon Fire, Roku, and pretty much any device that's used for streaming content. It has a 1,000 square feet operational coverage that can support up to 15 devices with WEP and WPA/WPA2 wireless security protocols.
This means that the EX3700 is exceptional at boosting the Wi-fi for devices connecting to a particular network. It can even work as a Wi-Fi hotspot, thanks to its one-touch setup. The EX3700 can be modified to use FastLane tech that allows for a single, dedicated high-speed connection to a particular device, which is perfect if you need the extra oomph in your gaming or if you need a little more bandwidth for 4K streaming.
On the downside, the EX3700 is not a simple device to use: yes, it has a one-touch setup system, but there are multiple settings that you need to configure. It's definitely not a plug-and-play extender despite how it's advertised. Some users also reported difficulty in connecting to a Wi-Fi network that's been extended by the EX3700.
Rockspace WiFi Range Extender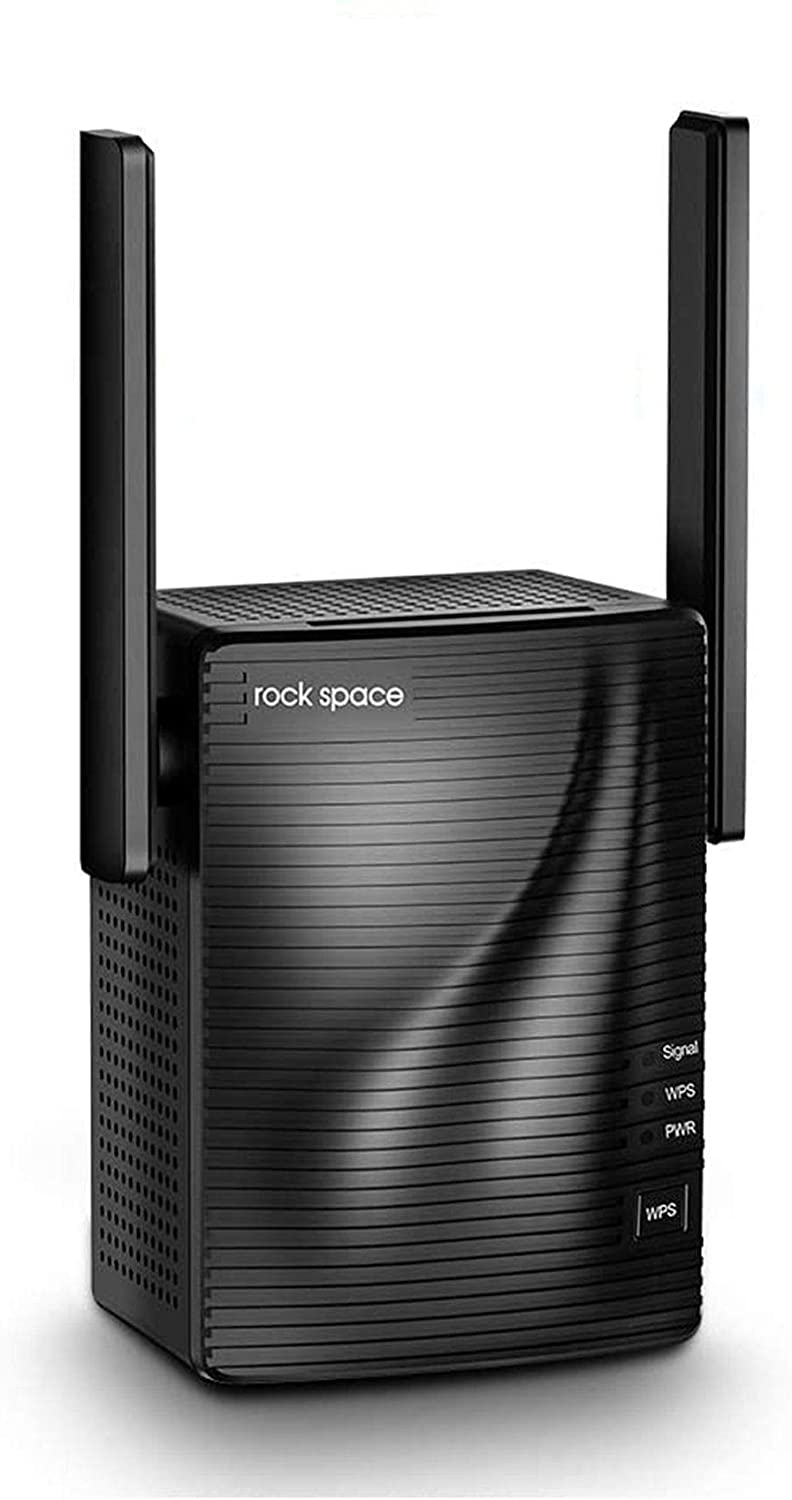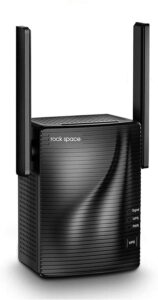 Dual band technology for signal boost
Up to 1,292 square feet in coverage
Compatible with most routers in the market
Smart signal indicator to find best spot for setup
Takes up to 8 seconds to setup
The Rockspace WiFi Range Extender offers a simple but affordable Wi-Fi extender for the everyday user who wants reliable internet connection.
One of its best features is its smart signal indicator that allows users to use the device itself to find the best placement for the device. This eliminates the guesswork about the most efficient place to setup the extender, further maximizing the extender's efficiency. It also boasts of an 8-second setup where users can simply press the WPS button on the device and configure all of its connectivity options through a browser.
As one of the cheaper options on this list, it does come with a few downsides: first, the Rockspace transmits at 1167 Mbps across a 1,292 sq. foot coverage, which is lower than other devices that are cheaper. It also only has 1 ethernet port, which means less options for wired connections. But perhaps the biggest downside of the Rockspace WiFi Range Extender is that it's very sensitive to localized interference.
During our tests we've noticed a significant decrease in the device's capabilities when placed near active Bluetooth devices and even large appliances like a Smart TV. It's good enough for a small space like one-bedroom home or small office spaces.
TP-Link AC1200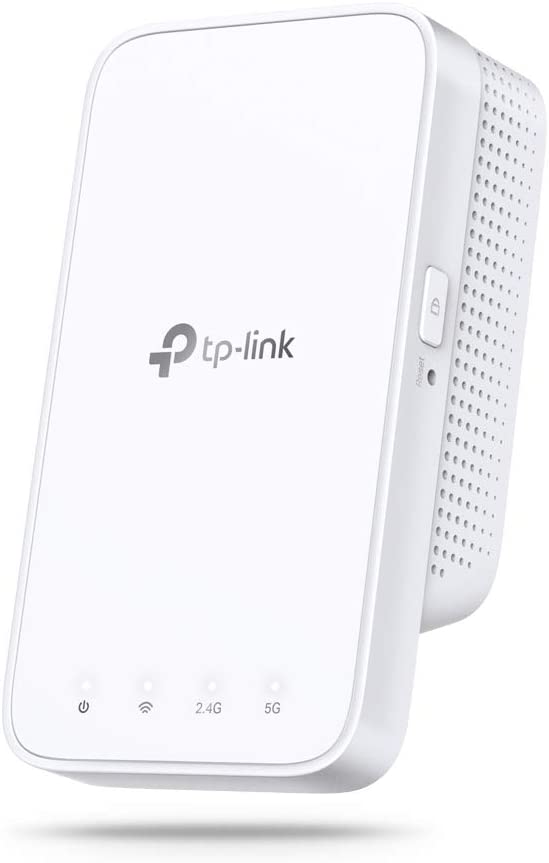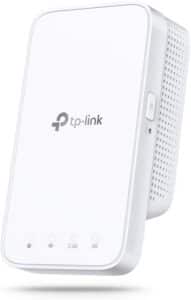 Coverage up to 1,500 square feet and 25 devices
Compatible for all router, gateway, and access points
Does not support ethernet connection
Seamless roaming
Easy setup features Smart indicator to help find best location to setup
The TP-Link AC1200 eliminates Wi-Fi dead zones for up to 1,500 square feet and can connect up to 25 devices. With its OneMesh Technology, your devices will not disconnect from one extender to another and can provide a stable connection in your home. With an operational coverage area of 1,500 square feet and capable of supporting 25 devices, the AC1200 is a pretty powerful extender for the price.
The AC1200 manages to extend your default Wi-Fi network across a 1,500 square foot range, and it does so using a simple, one-touch setup that even the least tech-savvy of us can understand. It also features a smart indicator that allows users to find the optimal installation spot for maximized Wi-Fi extension.
So, whether you need a budget Wi-Fi extender for one room with a dead zone or a Wi-Fi extender for your entire home, you're bound to find one that suits your needs online. Take our advice and try to note what it is you need so you don't end up buying a Wi-Fi extender that's too expensive and wide-range or one that doesn't sufficiently provide the additional coverage you're looking for in your home.