[We've updated the list to reflect the best smartwatches under $100 for 2021. We've kept some of the previous entries on this list despite being over $100, as we believe they still give users great value-for-money and should still be considered viable options.]
With a host of features like, heart rate monitoring, fitness tracking, GPS, and more, the best smartwatches can come at a hefty price tag; around $300 and up if you're buying a known brand.
But not to worry, these are some of the best smartwatches under $100 that are just as good (maybe even better?) than branded versions. They have the same features like heart rate monitoring, waterproofing, GPS tracking, and many others.
The Best Smartwatches Under $100
Letsfit Smartwatch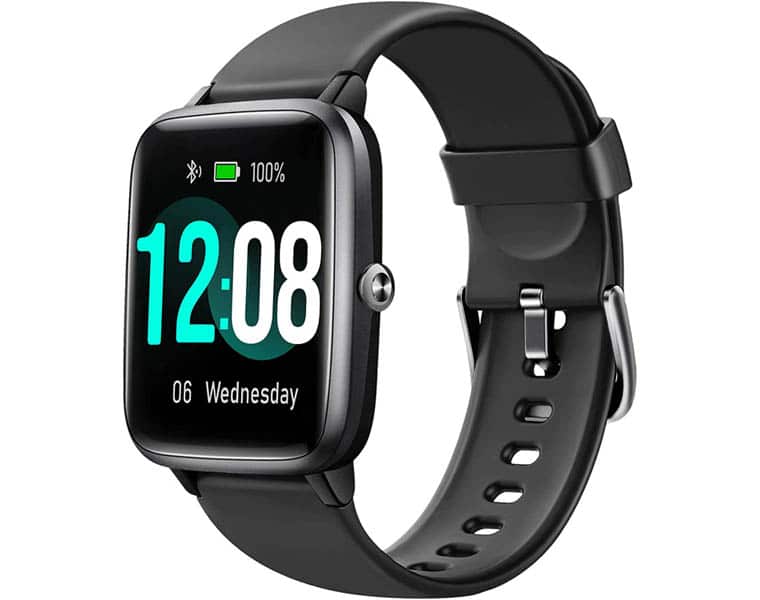 The Letsfit Smartwatch, first released in 2021, is one of the cheapest possible smartwatches out there. But how much functionality can you actually get? Well, as it turns out, quite a bit.
The Letsfit packs a few premium options like a built-in heart rate monitor, notification support for a wide variety of apps, and a fitness tracker that counts steps, distance covered, calories burned, and many more. It doesn't come with GPS, but if it's paired with your smartphone, it can use your GPS instead. The capacitive LCD screen is crisp, bright, and highly responsive, and the battery life is very impressive, with a full charge lasting around 12 days, 10 if you're actively using it.
Of course, don't expect premium, high-end features: the built-in heart rate monitor isn't the most accurate, the sleep tracker is inconsistent and uneditable, and comes packaged in an unoriginal and uninspired design that just screams Apple knockoff. Still, it's not bad, especially if you're using it casually.
Ticwatch E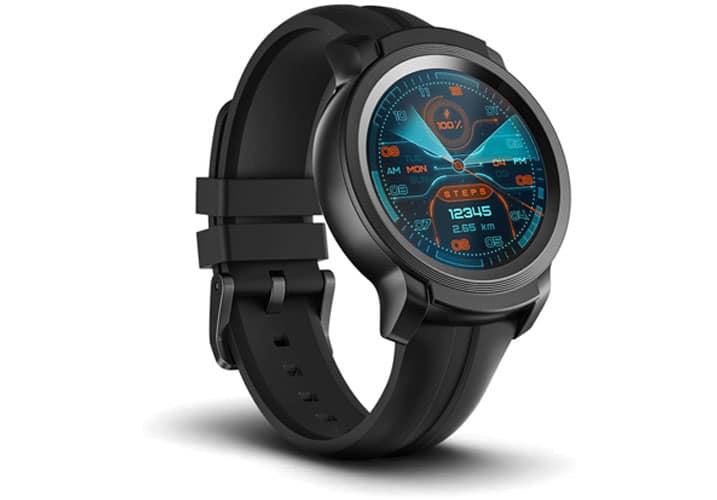 The Ticwatch Express –or Ticwatch E –is everything you want from a smart watch: simple OS, fitness-focused, with a built-in GPS and GLONASS, and a fairly large 1.4 inch display with 400×400 pixel resolution. Priced at a little over $100, it offers a whole lot more value-for-money than other smart watches in its price range.
Performance-wise, the Ticwatch E has one of the smoothest interfaces available, with users being able to swipe between menu options with zero lag. It comes with a fairly accurate heart-rate sensor and GPS that allows you to track your vitals as you exercise. It also has a microphone and a speaker, so you could take your calls from your watch.
Of course, because it's in the $100 price range, it has limitations: it doesn't have LTE so any calls and texts you receive still go through your phone, with the watch simply acting as a relay. It's a small downside though, especially considering you can also interchange the Ticwatch E's outer shell so you can switch between sporty and casual in no time.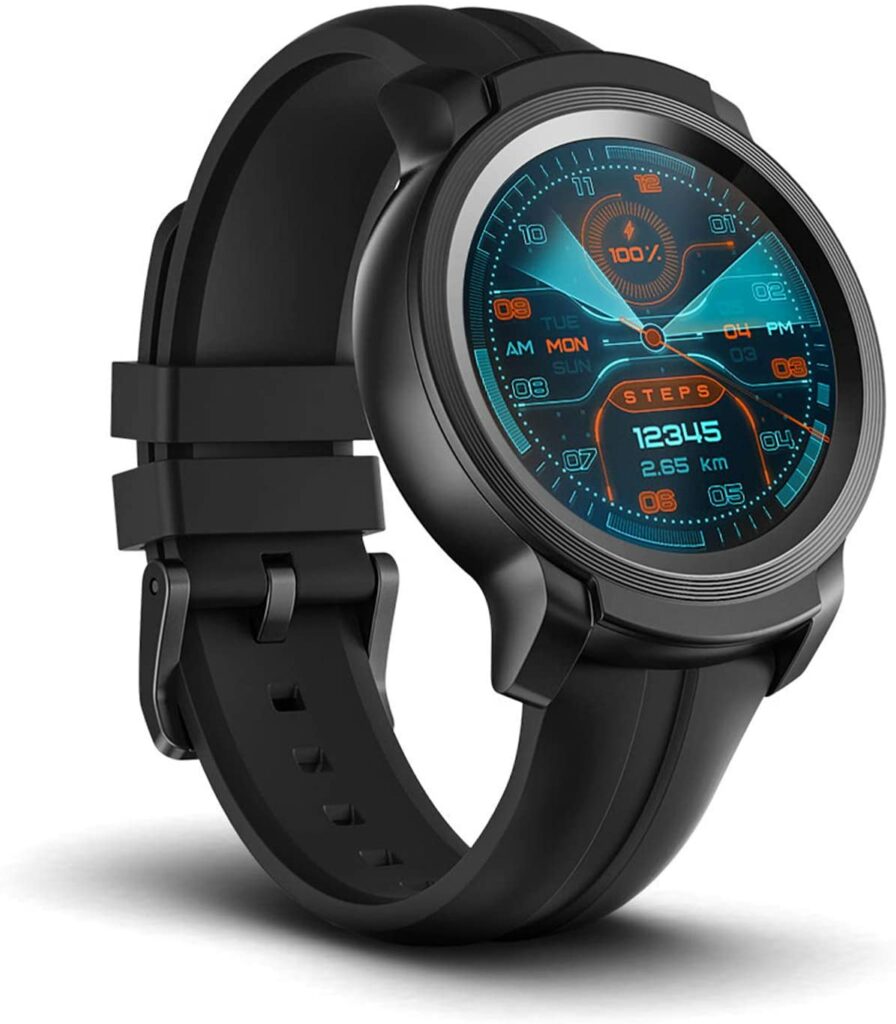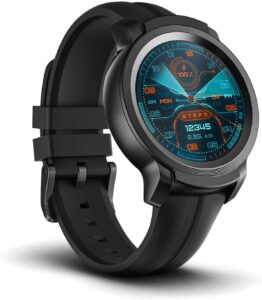 Our Top Pick: Pebble Time Smart Watch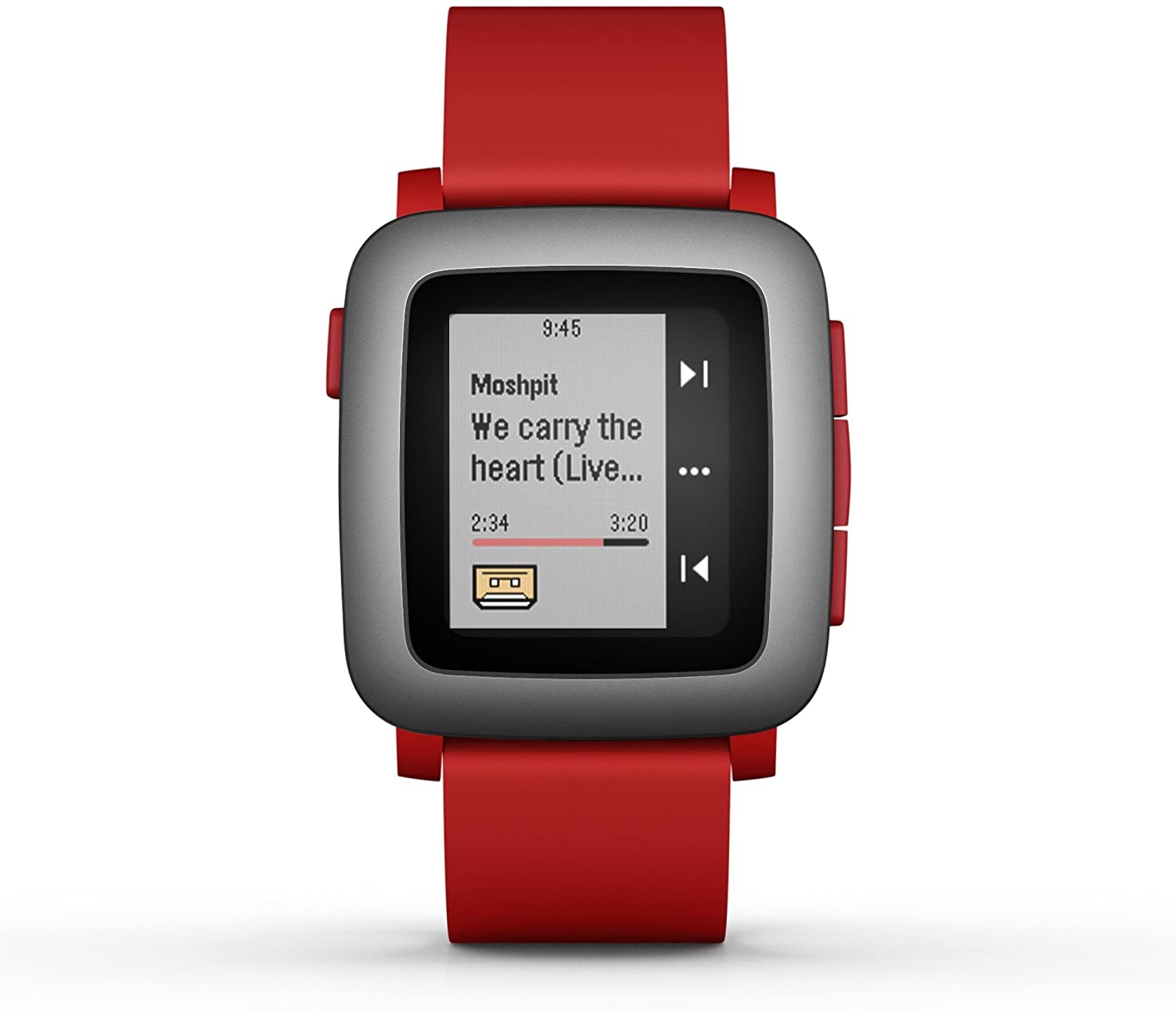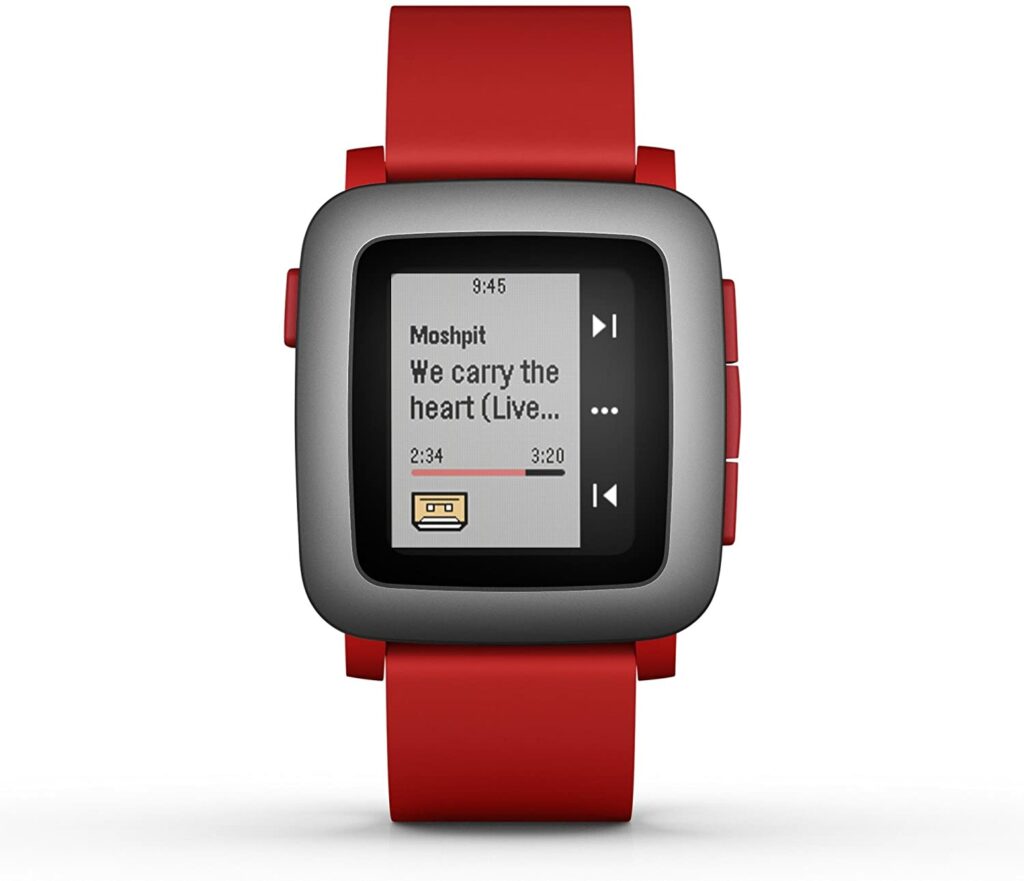 Since its humble beginnings as a Kickstarter project way back in 2012, Pebble has led the smartwatch/wearable tech industry ever since, breaking record after record in crowdfunding history and selling millions of smartwatches in the market.
Pebble has always relied on its unique look and proprietary OS to outsell its competition, and so far, they've been wildly successful. The Pebble Time is no exception: the watch is very smooth and slim, consisting primarily of matte plastic, save for its metal bezel. Round corners give the Pebble Time a very accessible, casual, and smart look that doesn't try too hard to be en vogue or sporty: it's just right.
The Pebble Time uses a 1.25-inch ePaper display and is the first Pebble smartwatch to have a color screen. Through the Pebble App store, which has an impressive 8000++ apps in its library, you can download any external apps you might need, whether it's weather or fitness tracking, or even customized alarms.
It can be synced with your smartphone so the Pebble Time can display most notifications like text messages, event reminders, calls, emails, and others. The Pebble Time also has a sleep and activity tracker that can monitor sleep quality and steps taken throughout the day.
It's not a perfect watch, however: the Pebble Time doesn't come with heart-monitoring nor GPS. The ePaper display, while providing amazing contrast, is worlds apart from OLED or LCD's image quality. However, these downsides pale in comparison to the amount of other things the Pebble Time is capable of.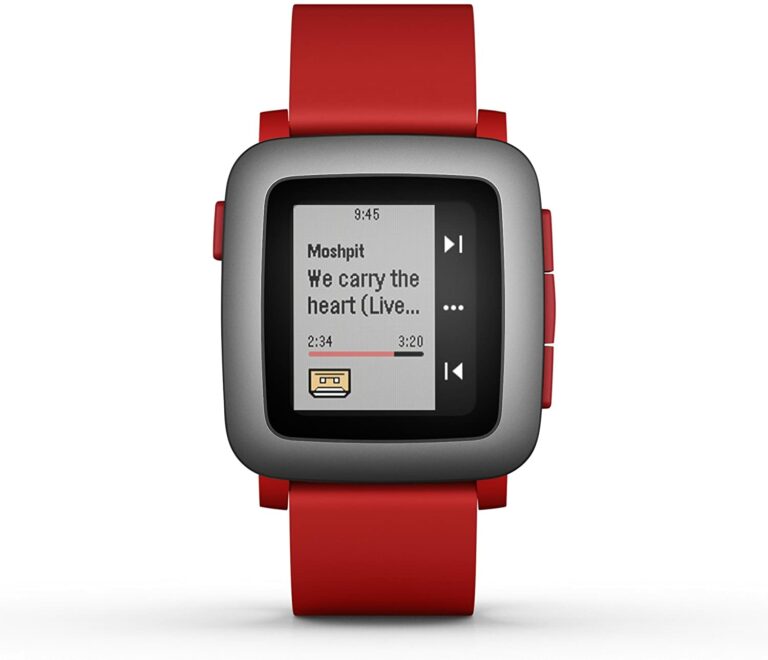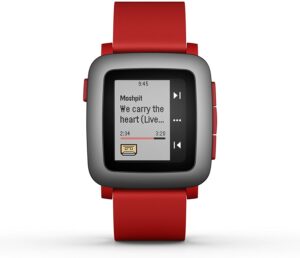 Best Budget Smart Watches
Now comes our list for some of the best smartwatches above $100, but still cheaper than other premium smart watch brands. If you still have room in your budget, these are worth checking out.
Fitbit Charge HR Wireless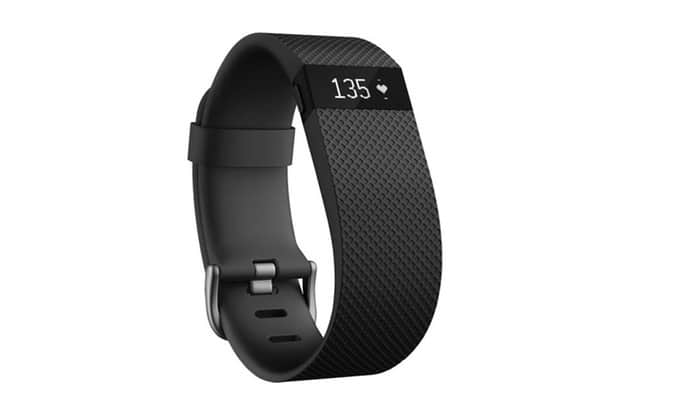 When it comes to workout monitoring, the Fitbit reigns supreme: with its heart-rate monitoring and activity tracking, the Fitbit is necessary for people who take their gym time seriously.
Whether you're walking to work, at the gym, or even just hanging out in your living room, the Fitbits optical sensors in the back where it touches your skin can monitor and track your pulse, displaying all relevant data on an OLED screen display in the front.
Aside from the fitness tracking, the Fitbit Charge HR also has other features like Caller ID, auto sleep, and a silent alarm. It also syncs your health stats wireless to either your computer or to Fitbit-compatible smartphones. If you're the competitive type, you can upload your stats through a Fitbit leaderboard to earn achievements like a video game.
Of course, it's not without flaws: the Fitbit Charge HR Wireless: while the device's body monitoring sensors are fairly accurate, its heart-rate sensor, arguably the most important bit, can be inaccurate at times. Disappointing, considering that Fitbit is known for highly accurate monitoring of vitals.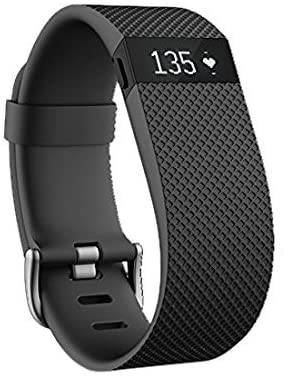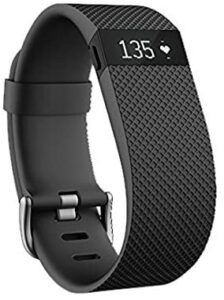 Amazfit Bip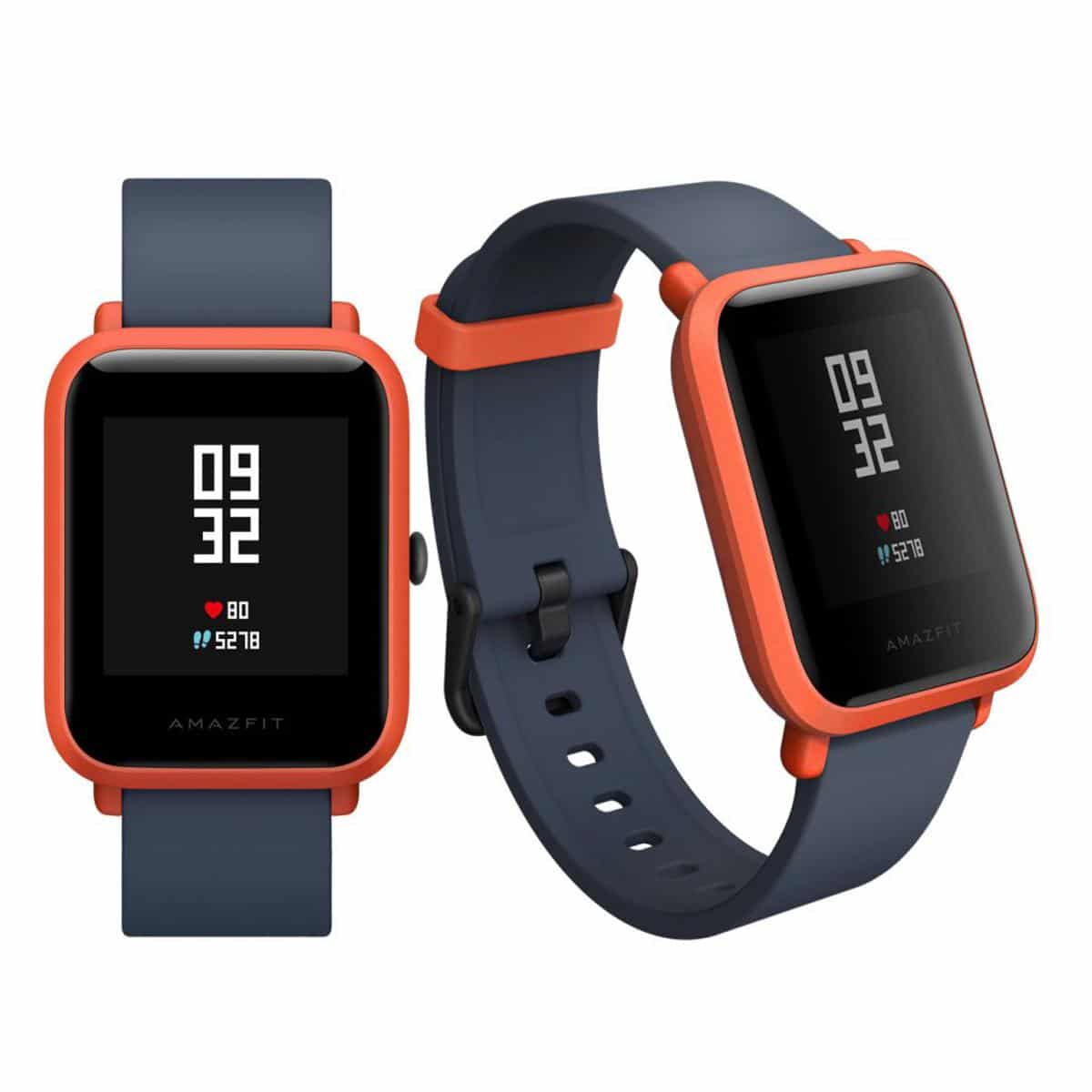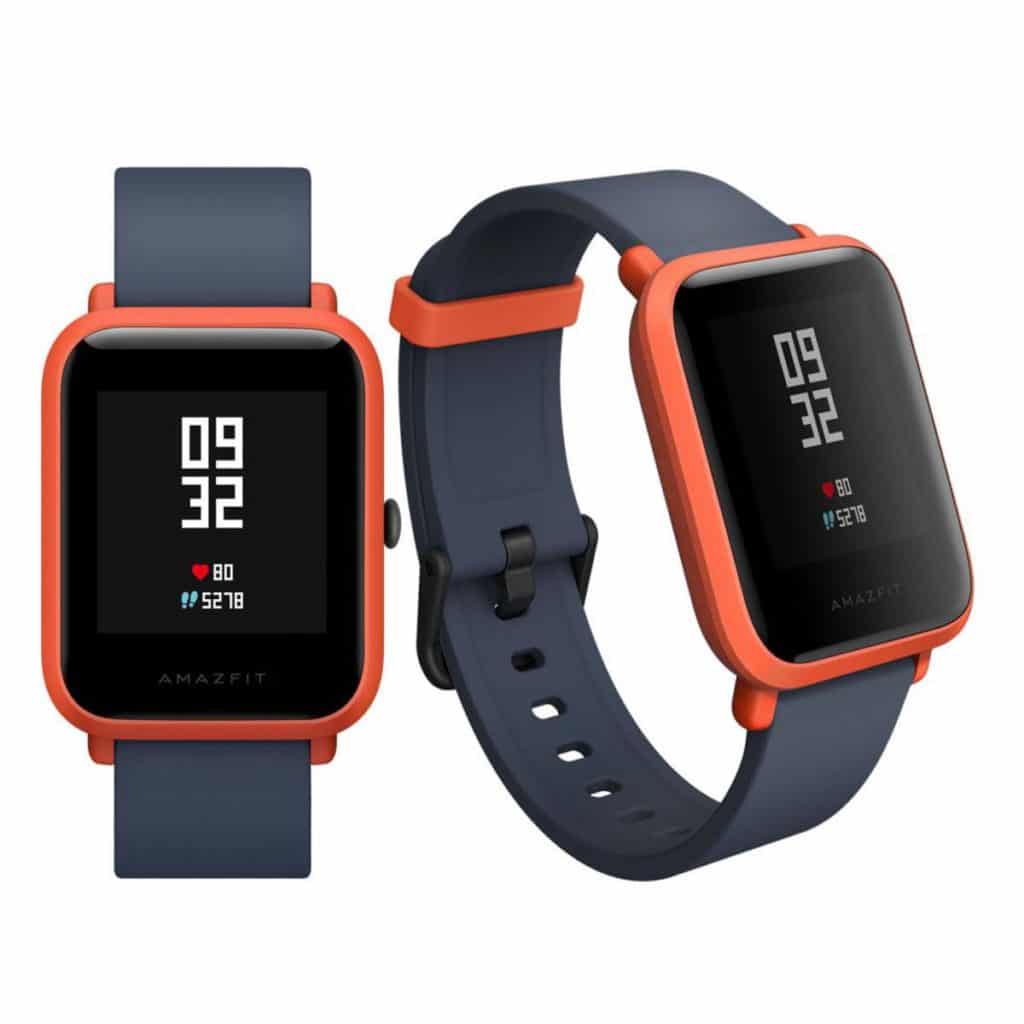 Apple Watches are probably one of the coolest looking smartwatches out there. Unfortunately, they also have a pretty cool price tag of around $400. Yikes!
Luckily, the Amazfit Bip brings the same aesthetic and a slew of premium features, but at a fraction of the cost. For 1/5th of the price of an Apple Watch, the Bip provides a stylish smartwatch with a touch screen, smartphone connectivity to receive notifications, GLONASS for workout tracking, GPS, and a very respectable battery life. Its built-in heart rate monitor is also fairly accurate, a rare feat considering many heart-rate tracking devices are pretty unreliable.
The Bip's battery life is pretty impressive: even with GPS, heart rate monitoring, and work-out tracking turned on and used every day, it still took us two weeks to get the battery below 50%. This is made even more impressive considering that the Bip's always-on display consists of a 1.28-inch, 176×176-pixel color screen that would drain any other smartwatches battery in a matter of a couple of days.
Despite its upsides, the Bip isn't perfect: one of its most glaring shortcomings is its lack of an app store. Unlike first-party providers like Samsung, Fitbit, or Apple, the Amazfit Bip doesn't have a native app where you can download external apps. But, at less than $80, it's not the worst thing to give up for a third-party manufactured smartwatch that can compete in the big leagues.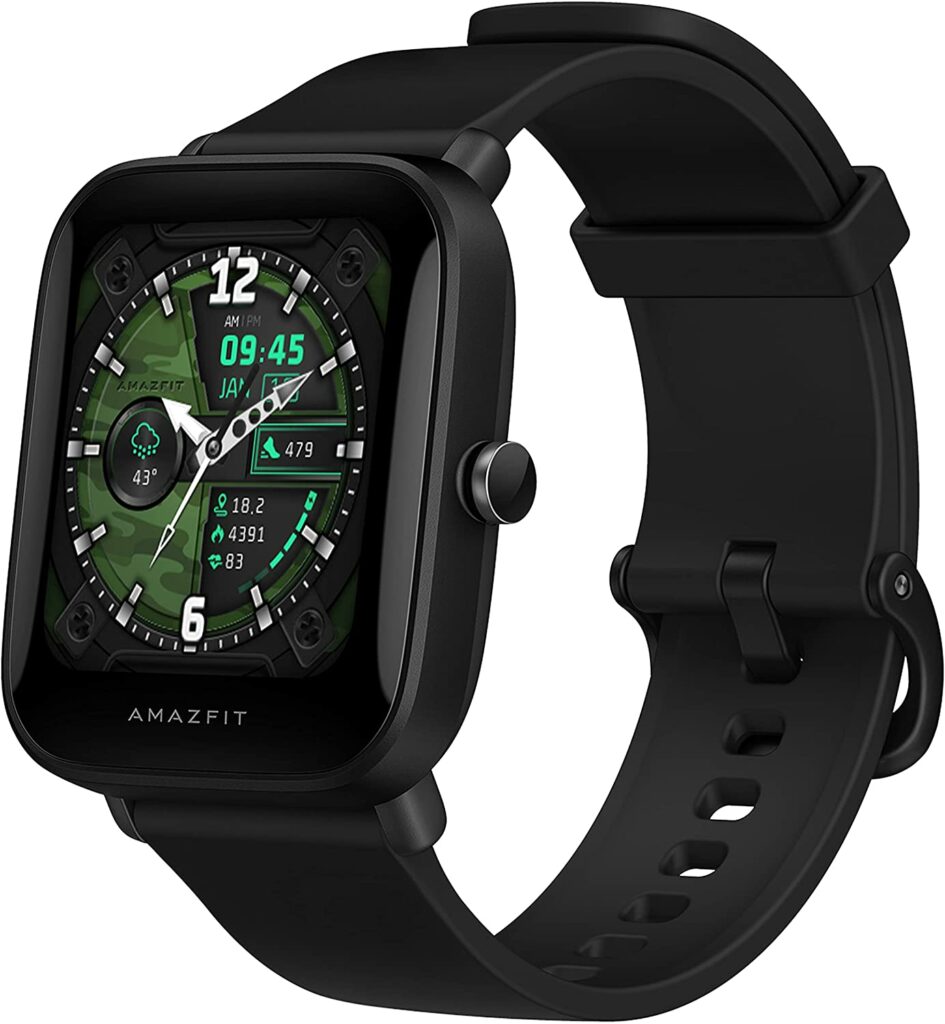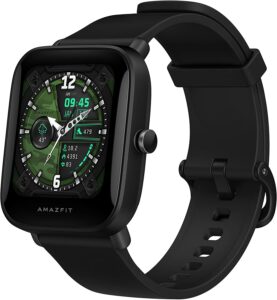 Samsung Galaxy Watch Active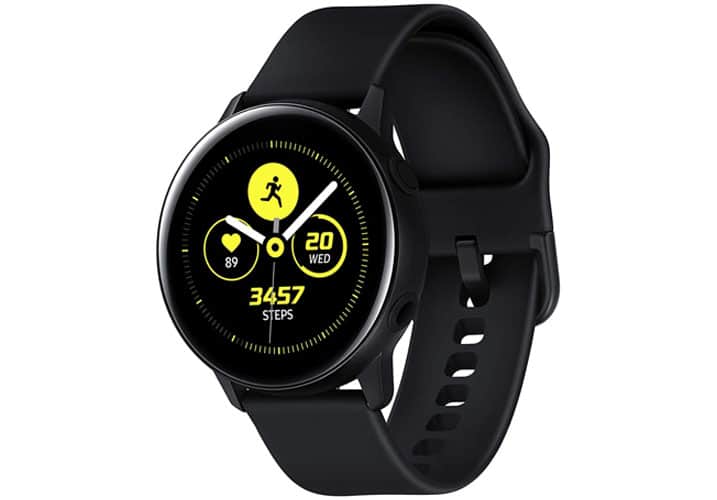 Samsung remains the 'premium' brand for all Android devices, and their Galaxy Watch Active is no exemption. Even the first-generation Galaxy Watch Active looks and feels premium: sleek design coupled with smooth and elegant interface, the Galaxy Watch Active is the entry point for people looking to up their wearable game.
Samsung's Galaxy Watch Active runs on Google's Wear OS platform and it runs plenty of Samsung's proprietary fitness-focused apps. The Galaxy Watch Active 2, which is slightly more expensive (about an extra hundred dollars more), comes with LTE connectivity and an ECG sensor.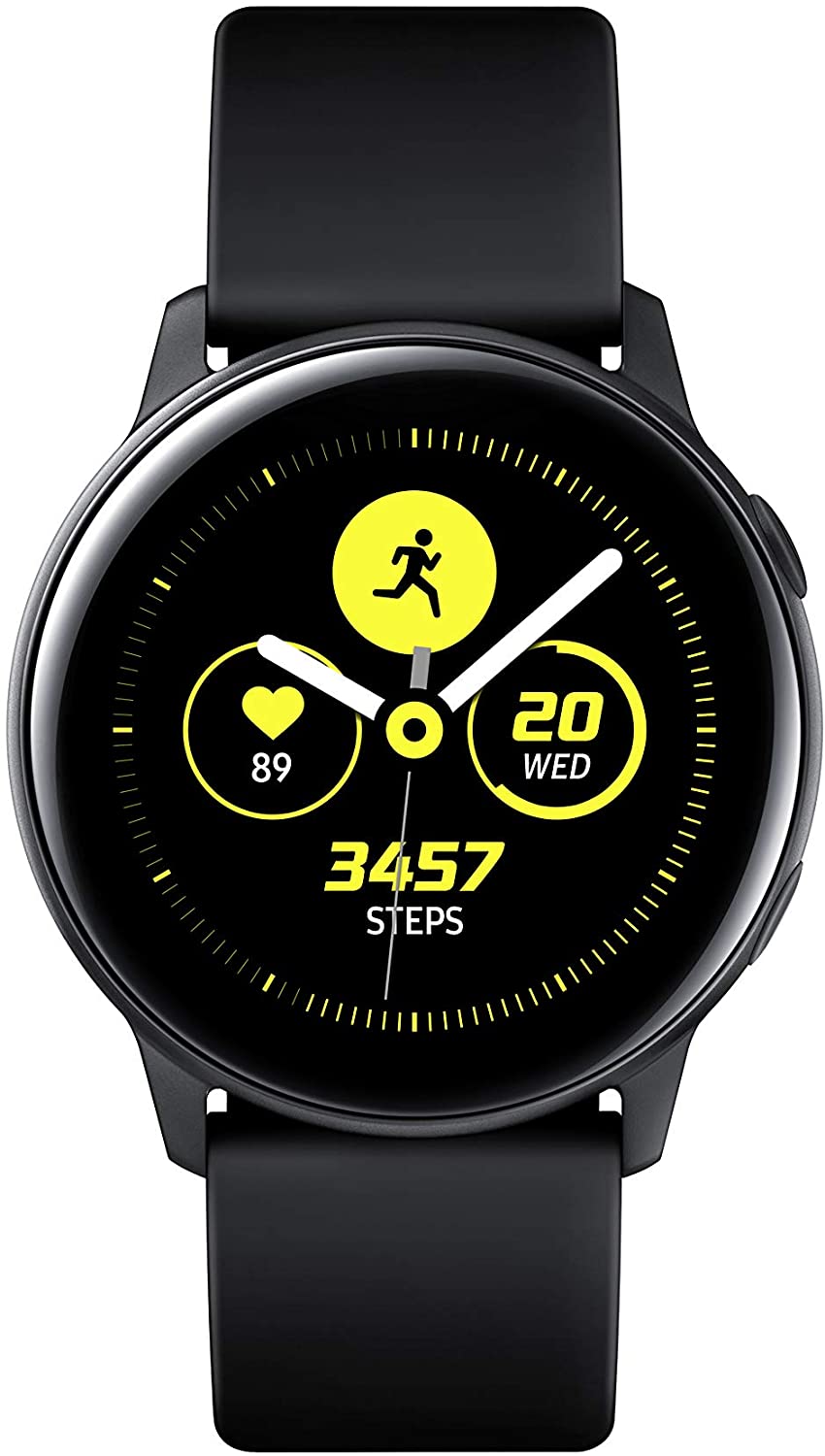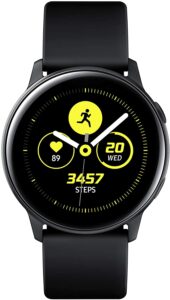 Our Top Premium Smartwatch Pick: Samsung Galaxy Watch 3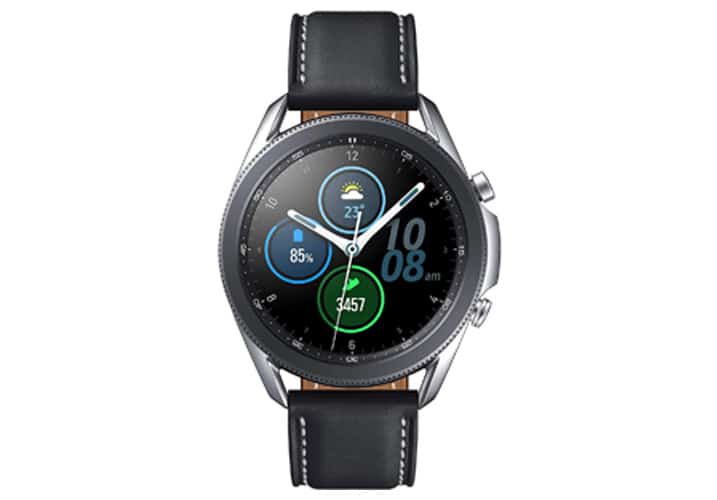 As of 2021, the best smart watch out in the market right now has to be the Samsung Galaxy Watch 3. It took every design element that made the 2018 Galaxy Watch Active such a hit and refines it considerably: rotating bezels, a gorgeous display, and a sleek, expensive-looking design.
The rotating bezels aren't just there for design; it's a highly functional tool that offers users a great physical alternative to just swiping and tapping. The display itself is beautiful: at 360×360 pixels, it provides users with a crystal-clear screen that shows words and images clearly for its size. Users can also download various watch faces to fully customize their Galaxy Watch.
It offers all the premium Samsung fitness apps and more, although your Wear and Watch OS options are greatly limited. Functionality is also limited if you use this on an iPhone, but the bottom line is: it's compatible with an iPhone.
It looks pricey, because it is: at $399, this is not a budget smart watch; this is the smart watch for people who want to track their fitness, have a wearable smart device, and look good while you're at it.