Featured Image from: Vizio
So you're trying to set-up a home theater on a budget. In this day and age, it's very much doable. From smart TV's under $500 to budget lounge chairs under $100, you can find a bargain for pretty much anything. However, the one thing people have a hard time finding a budget version of is soundbars.
It's hard to find discounted, but still high-quality, soundbars specifically because it takes a lot of precise engineering and expensive materials to make a decent set of speakers. At least, that's what most people think. In fact, there are a lot of soundbars in the market today that are inexpensive but without sacrificing the ability to pump out crystal-clear, bass-thumping audio.
To save you the trouble, we went out and tested some of the best soundbars under $100 and found the perfect ones to make the hills (or your living room) come alive with the sound of music (or movie soundtracks).
FULOXTECH 2.0 Channel Audio Soundbar
The FULOXTECH 2.0 channel audio soundbar uses four, full-range magnetic 32W speakers that pump out high-quality, dynamic, and loud sound throughout your entire entertainment room. For bass effects, it uses two passive radiators for both low and medium register thumping. The FULOXTECH 2.0 supports both wireless and wired modes, so you don't have to worry if your entertainment room has thick walls that make Bluetooth connection difficult. In wired mode, the unit includes AV input, an RCA Input, and a 3.5mm AUX-in.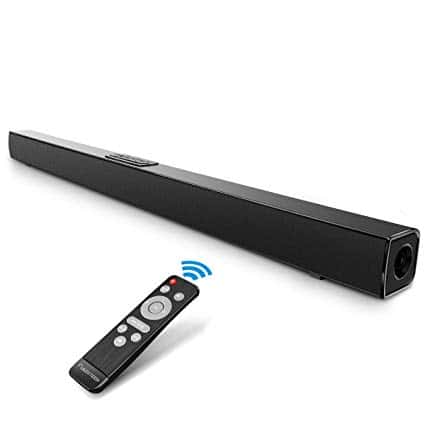 Meanwhile, the Bluetooth wireless mode supports Bluetooth 4.2 connectivity, which is effective at producing crystal clear sound up to 10 meters. The FULOXTECH 2.0 soundbar is 36.5 inches long, and comes with a wall mount option if you don't feel like placing it on the floor or your TV cabinet.
Price: $69.95
AmazonBasics 2.1 Channel Bluetooth
With its 2.1 Channel sound system, powerful speakers, and built-in subwoofers, th
e AmazonBasics Soundbar has been noted for its crisp, clear, and pure audio quality. Because of its channel system, the AmazonBasics Soundbar only has about 1% total harmonic distortion, or THD, which is at the limit of human perception, meaning that any distortion from these speakers will be barely audible, if at all.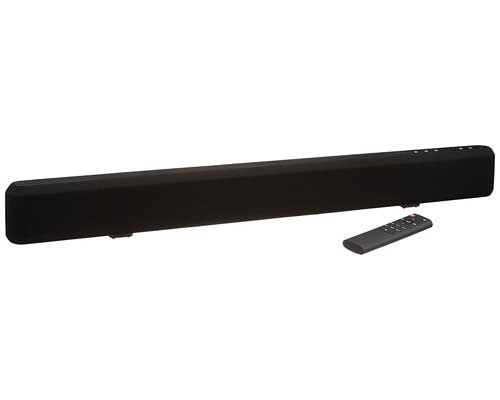 When I say "powerful speakers", I meant it: the AmazonBasics Soundbar delivers up to 36W RMS and up to 100db of power, letting you experience wall-to-wall expansive audio right in your living room. The best part? Its slim design means it takes up as little space as possible, giving your room more space for the sound to bounce around.
Its Bluetooth enabled, so you can reduce cord clutter completely and rely on wireless streaming from any device. The AmazonBasics Soundbar reduces audio degradation via streaming and increases battery life thanks to its built-in Bluetooth 2.1 EDR technology. It also has an AVRPC (audio/video remote control profile) that lets other Bluetooth devices (like Alexa or Siri compatible gadgets) control media playback on the soundbar. It can also stream one-way stereo signals to other speakers or even headphones via Bluetooth as well thanks to its AADP (advanced audio distribution profile).
Price: $69.99
TaoTronics 4 Speakers Strong Bass
Wired and wireless soundbars have their own pros and cons: wired soundbars offer better audio quality, but aren't as mobile as wireless ones. Wireless soundbars, on the other hand, can be installed and set-up anywhere in the house, but they do suffer audio degradation the farther they are from their source.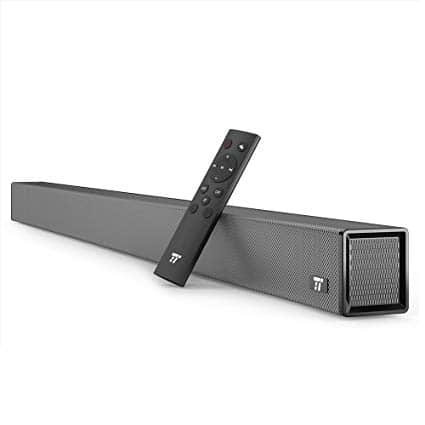 To get around this, the TaoTronics Sound Bar supports both wired and wireless set-ups with its dual installation system. Its Bluetooth receiver can stream audio from as far out as 33ft, and it comes with optical cables, but the unit itself has RCA connectors should you choose to use your own cords.
The 36-inch TaoTronics Sound Bar houses 4 pretty powerful speakers, 2 of which specialize in producing mid-low frequencies, while the other 2 cover the full audio spectrum. It comes with a remote, and in-unit buttons for controlling the volume. The smooth, black, and ultra slim design makes it perfect for anyone looking for a minimalist accessory for their living room.
Price: $78.99
Vizio SB2920-C6
The Vizio SB2920-C6 is a little over the $100 budget of this list, but we've included it because it provides premium features for a discounted price, making it one of the most cost-efficient purchases you can make for a soundbar.
Despite its $120 price tag, it can deliver up to 95db of wall-to-wall, floor-to-ceiling, crystal clear sound with less than 1% THD (total harmonic distortion), a rare feat even for many more expensive soundbars. It has 2 powerful, full-range stereo speakers that can boost audio across an entire room, and with its DTS TruSound and DTS TruVolume technology, it does it without losing audio quality.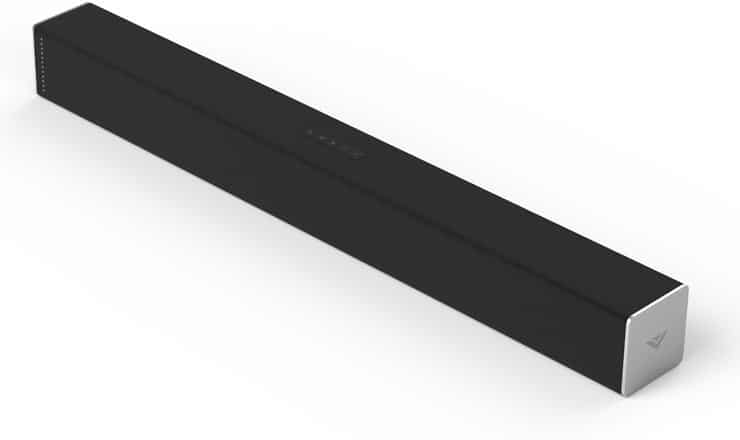 The Vizio delivers comfortable, realistic, and consistent surround sound and is perfect for small-to-medium sized entertainment rooms. It is fully Bluetooth-compatible and easily pairs with most smart devices.
Price: $120