No road trip, family reunion, or party of any size is ever complete without some music to complete the experience. It's why I and plenty of people I know feel their day is incomplete when they forget their earphones at home and are reduced to listening to the monotonous sounds of their everyday life.
When you want to share the music, you'll need a really good speaker to provide the best experience. But you don't have to buy an expensive portable Bluetooth speaker just to get high quality as there are plenty of quality budget Bluetooth speakers less than 50 dollars.
In this list, we find the best portable Bluetooth speakers for budgets up to USD 50. We list pros – such as durability, waterproof, and shockproof – and cons – such as poor reviews and poor battery life.
Anker SoundCore 2 ($39.99)
We're starting this list strong with the Anker SoundCore 2. Available in three colors on Anker's online store and takes up to five business days to ship to your home, this model has some pretty strong specs despite its low price. These include high-fidelity sound, BassUp Technology, a 24-hour battery life, and an ultra-portable unit that can survive regular outdoor conditions.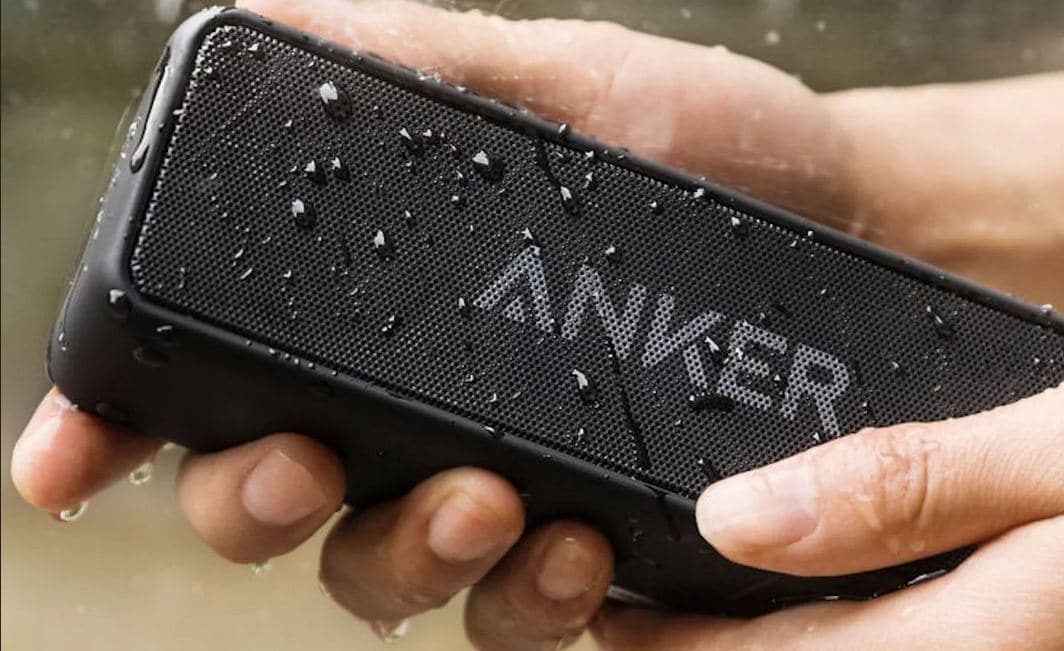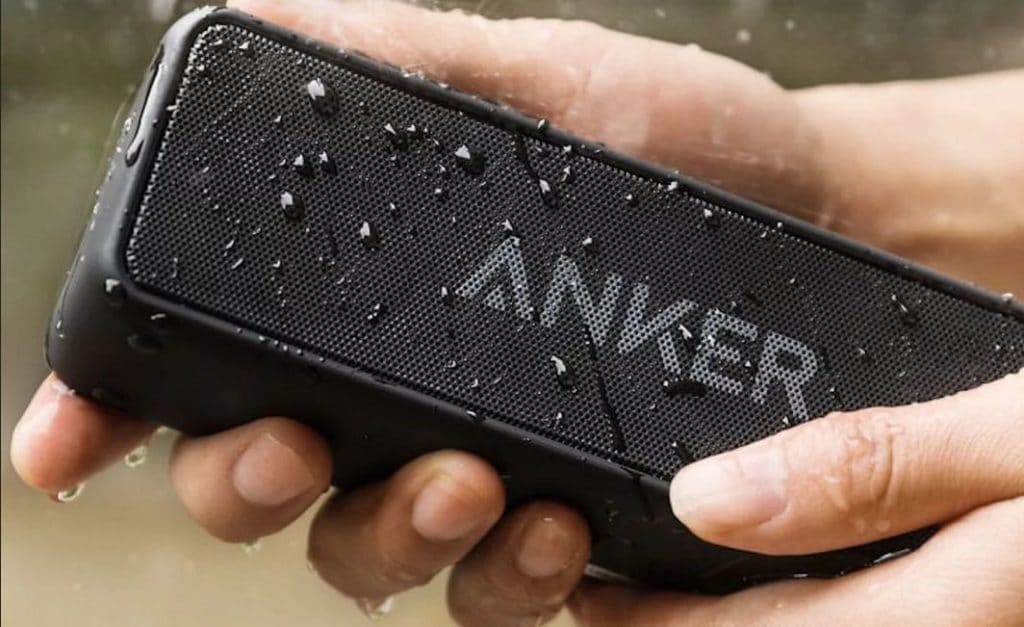 Pros:
You get a whole day of music with just one full charge. It may not seem like a huge feature for people who hang out with their friends for three or four hours, but it means a huge deal for outdoor activities such as a trip to the beach or a camping trip with friends and family. Its waterproof, dustproof, and outdoor resistance also helps ensure you get your money's worth. This is definitely a choice to consider if you're thinking about the outdoors.
While the SoundCore 2 provides Bluetooth connection, you can also opt to connect to your music source via AUX cord. If you want to increase the range of the music, the SoundCore 2 can connect with devices up to 66 feet away in any open space. You can also connect it with the Amazon Echo Dot.
Cons:
Unfortunately, despite its good features, it may be considered the black sheep of the Anker family. If you've seen Apple iPhones go from the iPhone 4 all the way to the iPhone Xs, you could see how the next model in line trumps the old version in terms of features and capabilities. Unfortunately, those who already have the SoundCore or a few other models may find it unnecessary to upgrade as there's not much they can get that's already provided on other models.
JBL Clip 3 ($49.95)
Some people on the go may need both hands free, which is why the JBL Clip 3 provides users with the ability to get hands-free, wireless music. Originally priced at $59.95, it's currently discounted at $49.95, so people on a budget may want to purchase this while it lasts. Unlike your traditionally bulky, rectangle speaker, this one resembles something of a keychain, allowing users to clip it to their bags and take it anywhere while enjoying the music.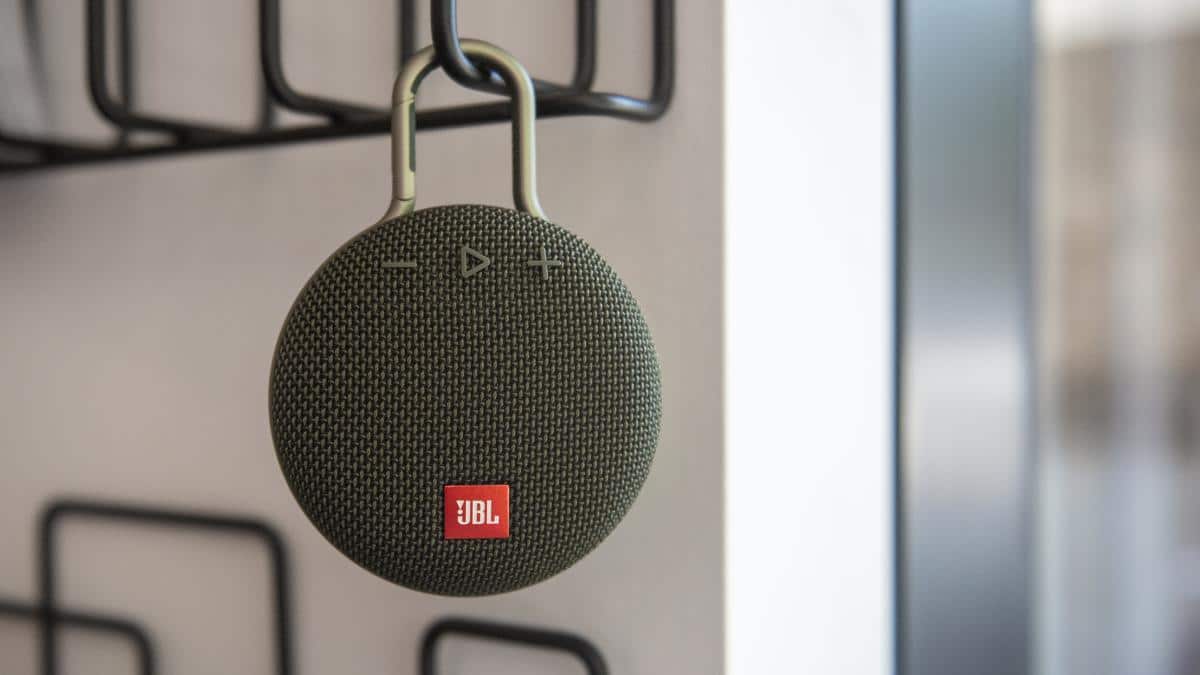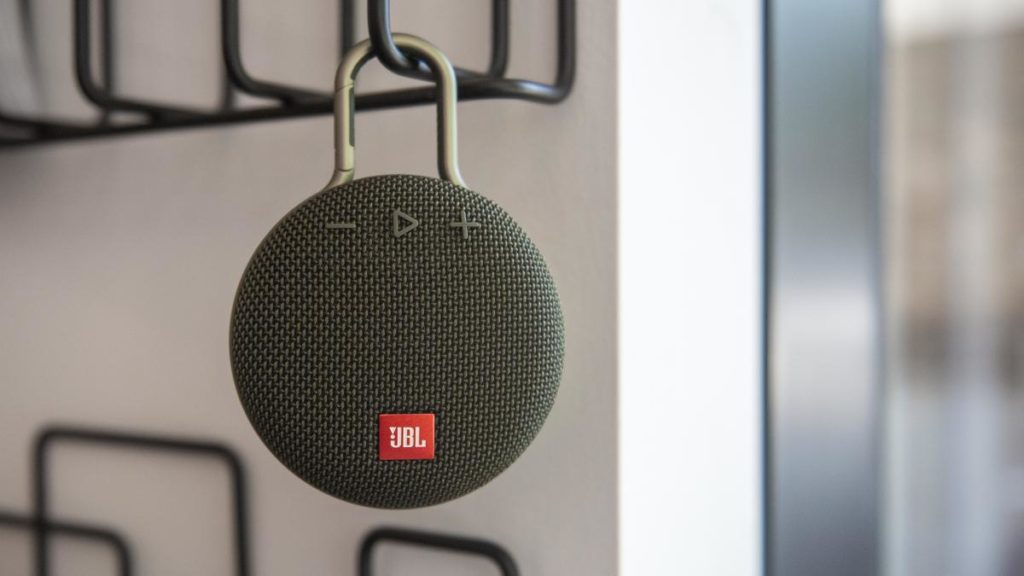 Pros:
Its main selling point is obviously its clip-on abilities, which may be necessary when you're out hiking or traveling. It's also waterproof, making it even more reinforced to handle the outdoor lifestyle. And in terms of music quality, the speakerphone is built with noise and echo-cancelling features, creating a crystal clear sound when you play it.
Cons:
Despite its design made for the outdoor people on the go, its battery life says otherwise. With only a 10-hour battery limit, it's not ideal for people who plan to stay off the grid for a day or two. To keep it alive, you may need a power bank to charge it in between, and take note that a full charge takes around three hours.
See it on Amazon
Dell AD211 ($41.99)
Available in a basic black or gray, the Dell AD211 fits in with the rest of Dell's line of tech. The design is unimpressive and may be lost in a sea of other Bluetooth speakers in the market, but just like the rest of Dell's tech, it gets the job done. And this model does it with affordability and quality in mind.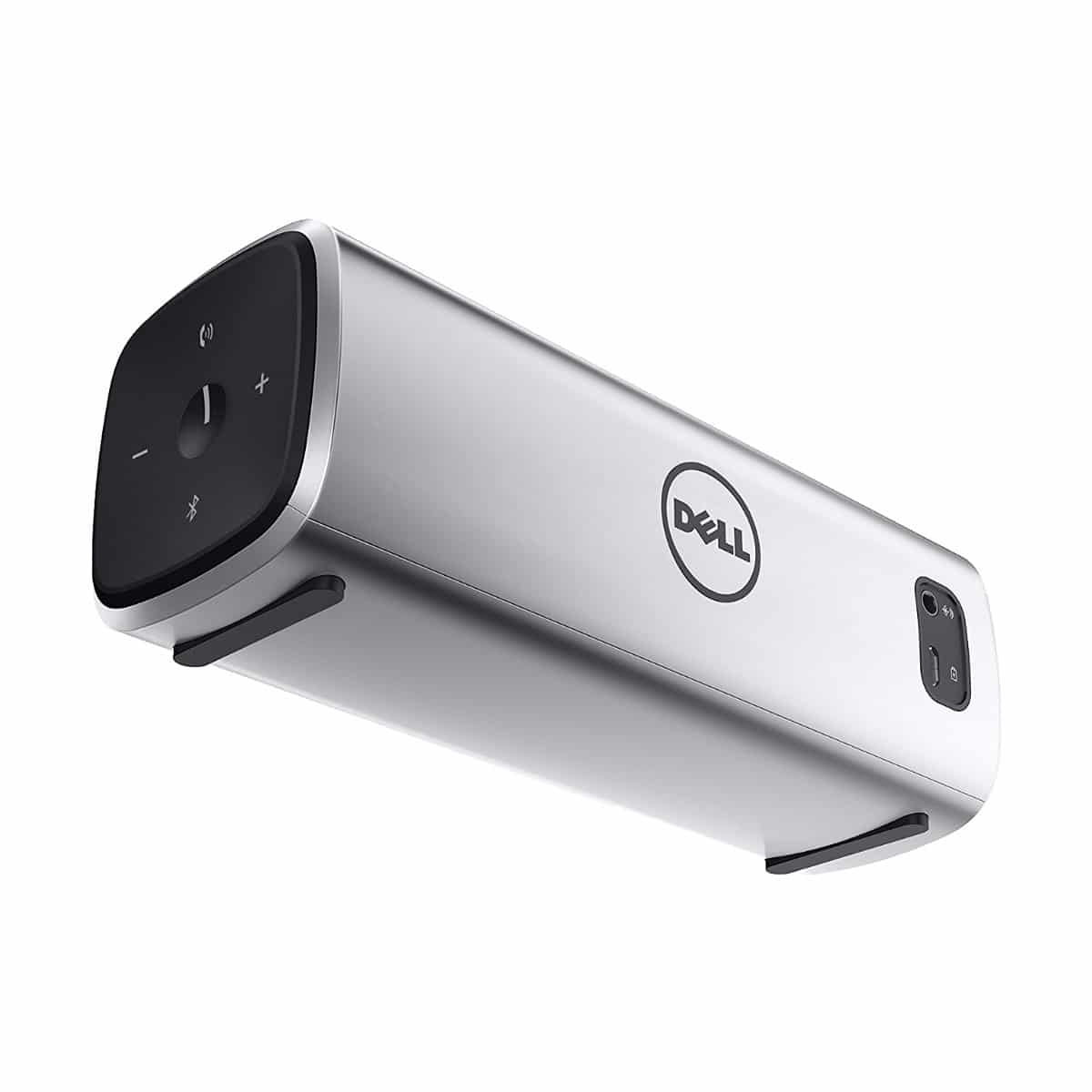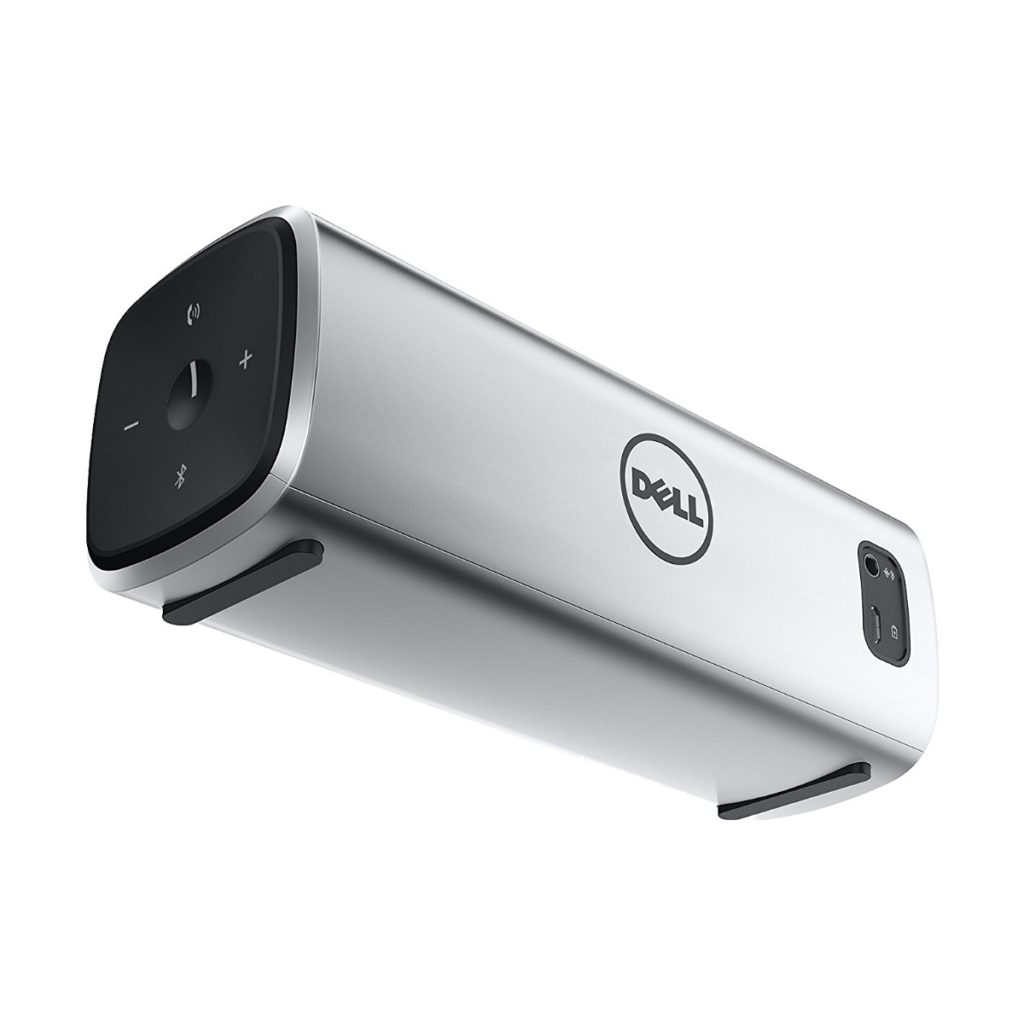 Pros:
At $41.99, it gets the job done in providing quality music. It's no-frills and doesn't sport waterproof, shockproof, or even dustproof features as other similar budget speakers do. But perhaps if you're on a budget and not really an outdoorsy person and will only use their speaker on a flat surface in their home or office, then this could be the product for you.
Cons:
It's a great home or office speaker – but that's just about it. If you want to take it outdoors, you're probably better off investing a few more dollars with something that has waterproof or shockproof features. And in terms of sound quality, it's not without flaws: reviews found that, left at max volume, you might hear a bit of screeching metal sounds coming from the speaker commonly found in lesser-quality sound sources.
AOMAIS Sport II ($29.99)
The most affordable speaker on this list, the AOMAIS Sport II is a mini portable waterproof Bluetooth speaker. Don't be fooled by its low price of almost $30, though. Despite its relatively small size and its affordability, it still provides a lot of quality in terms of durability and sound.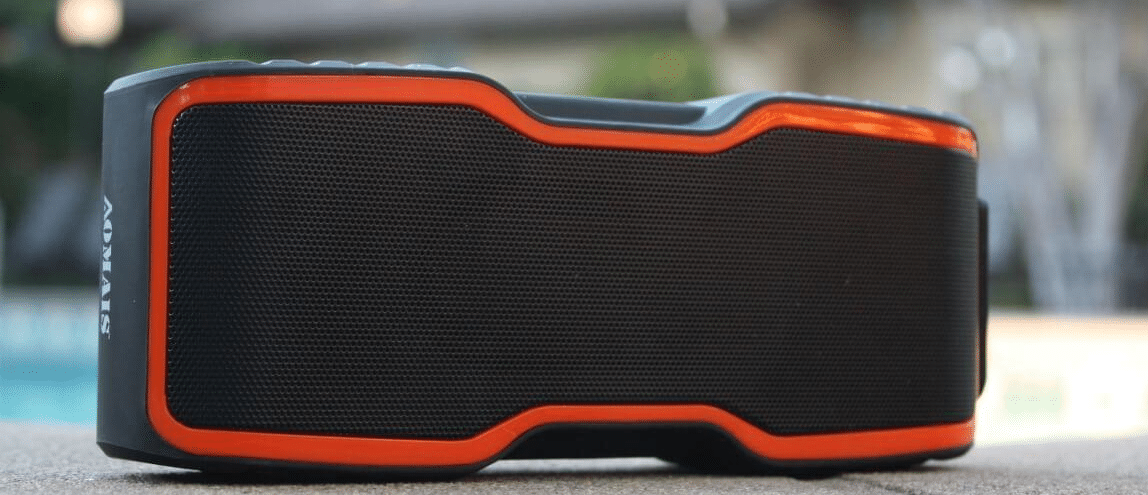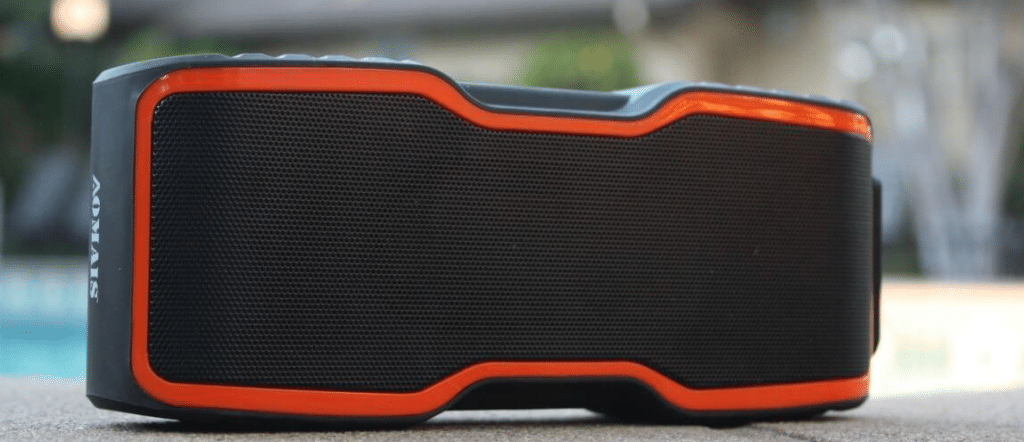 Pros:
Despite the price, the Sport II has even more outdoor features as the other models meant for taking on camping trips or outdoor parties: waterproof, dustproof, mud-proof, and a hard exterior. It can connect with music sources up to 99 feet away and is compatible with the Amazon Echo Dot.
Reviews found it has great quality and can even be connected to a second speaker. If you buy two, it still won't go over your $50 limit. Another thing I found interesting was that its speaker has a built-in microphone. If you've ever experienced getting a call in the middle of playing music on a Bluetooth speaker with your phone, you know the hassle of having to disconnect your phone from the speaker just to pick up the call. With the Sport II, disconnecting is unnecessary as it is built to help you pick up your calls.
Cons:
At $30, however, don't expect this unit to have the same battery life as our other models in this list: it only has a 10-hour playtime. Play any louder than the 50 percent volume and that estimate is much shorter.
While the outdoor features are impressive, don't be fooled by power words and additional features you may not even need. If you know you're an indoor person and may never need to bring a speaker outdoors or on the go, you're better off with a quality speaker that focuses more on sound than external features. But if you're an active person on the go, you might want to consider a hard shell for your speaker that can withstand several outdoor elements.