Featured Image from: Manfrotto
Whether you're shooting landscapes, portraits, or even for more dynamic shots, a good photographer should not be without a tripod. Not all tripods were created equally, and the wrong one can severely diminish your photos, while the right one can make all the difference between an amateur shot and a professional one.
But quality tripods don't come cheap; in fact, some models can go up to $900, maybe even more. However, if you want to take your profession as a photographer seriously, you'll need to shell out some cash for a tripod. Never consider a tripod as a simple accessory. It is, in fact, a necessary tool in your photography arsenal.
Thankfully, there are plenty of tripods out there that don't cost an arm or a leg. If you're just starting out as a photographer, these DSLR tripods under $50 might just be what you need to master basic photography skills.
We scoured the market and found the best DSLR tripods under $50 so you don't have to. Here's what we found:
Bower VTSL7200 3-Section 72″ Tripod with Case
Material: Aluminum
Leg Sections: Three (with locks)
Weight: 4.58lbs
Maximum height: 72in
Load capacity: 3.8lbs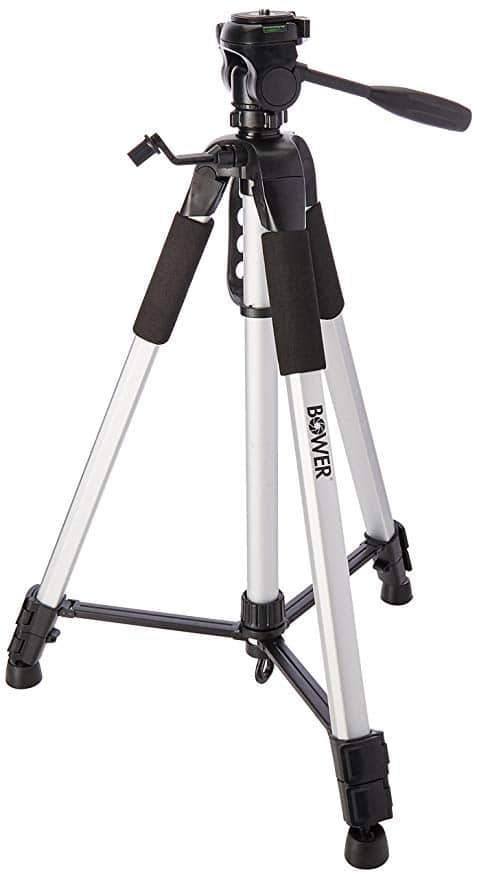 An affordable heavy-duty tripod, this series from Bower is made with high-quality, durable aluminum that can put up with rough shoot conditions. The Bower VTSL7200 measures at 26 inches when folded, allowing it to fit perfectly with the case it comes with. It is fully adjustable, and can be used with all types of cameras provided you have a universal tripod mount. It has a pan control and sure-grip tilt lever that operates smoothly for better panning action.
The legs come with rubber tips for great traction and stable images, while the three separate leg locks and quick-release swivel head allows you to setup and pack up easily.
Price: $32.95
Joby GorillaPod SLR-Zoom Mini Tabletop Tripod
Material: Japanese medical-grade ABS plastic and German TPE
Leg Sections: Three
Weight: 1.21lbs
Maximum height: 11.7in
Minimum height: 4.7in
Load capacity: 6.6lbs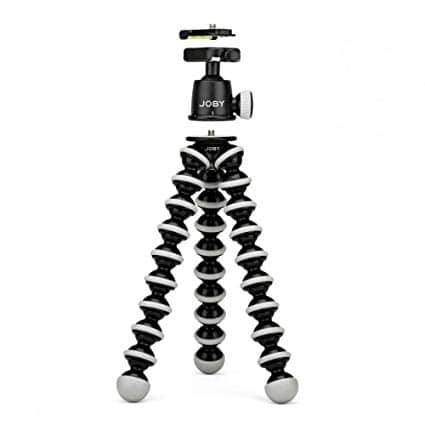 Don't let this mini tripod fool you: behind its super small frame and multi-segmented flexible legs, the Joby GorillaPod SLR-Zoom has a max load capacity of over 6lbs, extremely impressive for a tripod of its size.
The GorillaPod is perfect for photographers looking to shoot with a telephoto or large zoom lens. The compact design means they'll have more space in their bag for other equipment. It's specifically designed to carry heavy equipment, with flexible joints that allow it to be positioned in creative ways. It has a ball head with a quick-release function, foot grips, and a rubberized ring to help you take perfectly stable photos.
Price: $49
Manfrotto PIXI Evo 2 Section Mini Tripod
Material: Aluminum
Leg sections: 2
Weight: 9.4oz
Maximum Height: 7.7inches
Minimum Height: 2.4inches
Load Capacity: 5.5lbs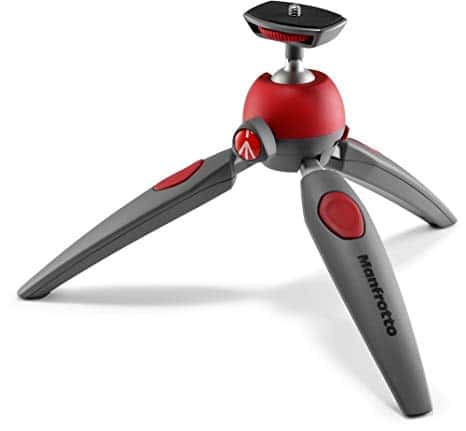 In the photography industry, Manfrotto has made a name for itself as being a reliable manufacturer of high-quality, premium tripods. Most of their products are well over $100, but the PIXI Evo 2 Mini offers many of the features of their more expensive models but at a budget price.
Despite coming from a prestigious manufacturer, the PIXI Evo 2 Section Mini remains under $50 because of its size. However, don't let its size fool you: it can perfectly stabilize most DSLRs and is a great tool for photographers looking to take more creative shots because of the tripod's 2 fully-adjustable leg angles and integrated ball head with a 90° notch.
All in all, the Manfrotto PIXI Evo 2 Section Mini is a great addition in every camera bag and provides great quality for money.
Price: $37.99
Silk U8000 Video/Photo Tripod
Material: Aluminum
Leg Sections: Three
Weight: 3.1lbs
Maximum height: 59in
Minimum height: 21.5in
Load capacity: 4.4lbs
Other features: Fluid/3-way head, dual purpose video/photo quick shoe, and speed release leg locks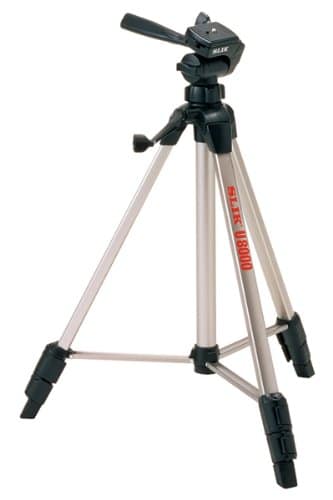 Slik is another tripod manufacturer that's well-known for its premium products that go upwards $100, but this line of tripods offers great value for money, especially for beginner photographers or for professional photographers on a budget. Just like its name suggests, the Silk U8000 was designed specifically for both photos and video, with a fluid, 3-way head that offers great pan control, as well as a dual purpose video/photo quick shoe.
The speed release leg locks provide both security and ease of set-up, while its lightweight frame of 3 lbs belies its heavy-duty durability.
Price: $44.95
Nikon Compact Tripod with 2-way Panhead
Material: Aluminum
Leg sections: Four
Weight: 1.45lbs
Maximum height: 43.7in
Minimum height: 13in
Load capacity: 2.75lbs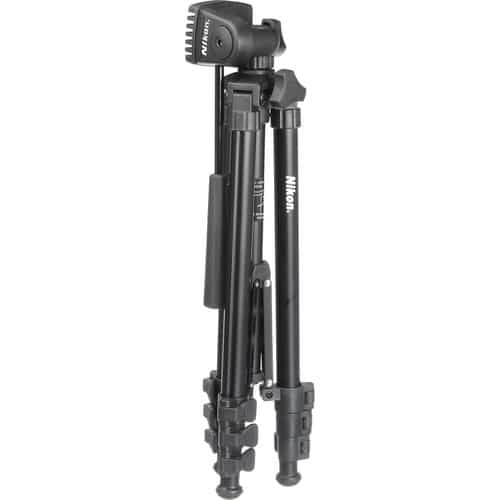 Most cameras usually use a mirror box to reflect light to the optical viewfinder. Mirrorless cameras don't have this mirror box, making them smaller and more compact (and makes them better at shooting other things, but that's another discussion). However, because they're smaller, this means that mirrorless camera users might have a harder time finding a tripod, which are usually geared towards mirrored DSLRs.
Enter the Nikon Compact Tripod with 2-way panhead. It's an affordable alternative to other mirrorless camera tripods out there and offers the same kind of premium features. The Nikon Compact Tripod with 2-way panhead is perfect for rangefinder-style DSLR's and has a maximum load of 2.75lbs. It also features oversized leg locks and locking collar to ensure stability, rubber leg tips to minimize slippage, and a two-way panhead with a textured surface and an easy-grip pan handle to help you position your camera just right.
Price:$37.99
See it on Amazon